This post will be discussing the following topics:
ALL YOU NEED TO KNOW ABOUT A.I.
HOW ARTIFICIAL INTELLIGENCE EMERGED
THE EARLY INDUSTRIES AND THEIR CHALLENGES
HOW STAGES OF INTELLIGENCE AIMED AT TECHNOLOGICAL IMPROVEMENT OVER THE YEARS LED TO ARTIFICIAL INTELLIGENCE & BEYOND
TECHNICAL INTELLIGENCE
FIRST AUTOMATION INTELLIGENCE
POWER MACHINES INTELLIGENCE
POWER MACHINES AUTOMATION INTELLIGENCE
ELECTRICAL ELECTRONICS INTELLIGENCE
COMPUTER INTELLIGENCE
PROGRAMMING INTELLIGENCE
INTERNET SERVICES INTELLIGENCE
ARTIFICIAL INTELLIGENCE (A.I) or ARTIFICIAL NARROW INTELLIGENCE (ANI)
SECOND AUTOMATION INTELLIGENCE
ARTIFICIAL INTELLIGENCE ROBOTICS
WHAT IS NEXT AFTER ARTIFICIAL INTELLIGENCE?
ARTIFICIAL GENERAL INTELLIGENCE (AGI)
WHAT IS NEXT AFTER "ARTIFICIAL GENERAL INTELLIGENCE"?
WHAT IS ARTIFICIAL SUPER-INTELLIGENCE?
Let us discuss these topics by following one step after another. This is a very long post and will take you about 30 minutes or more to read all the topics, however, you can read and continue from where you stopped whenever you have the chance. You can bookmark EngineeringAll.com in your browser to help you remember to visit next time and continue. Meanwhile, this post remains featured and stuck on EngineeringAll.com's home page.
Never forget to drop your opinion and feedback using the comment section.
WHAT IS ARTIFICIAL INTELLIGENCE (A.I.)? & WHAT IS NEXT AFTER IT?
ALL YOU NEED TO KNOW ABOUT A.I.
Artificial intelligence has become a common word in modern engineering. Many that are not familiar with developments in engineering and science seem to have different views/perceptions when it comes to artificial intelligence.
Though it is possible, artificial intelligence can't be confused or misunderstood to be something else considering the advantages it has come to offer in modern engineering and the human lifestyle in general.
Though not all new generation engineers know how it all started majority actually know where it is heading and definitely have something to say regarding artificial intelligence.
The previous posts written on artificial intelligence seem to center on robotics and modern automated devices alone but this one will be different.
In this post, we will be discussing various aspects of artificial intelligence, how it all started, and make future predictions i.e. where modern technology is heading to in the future.
HOW ARTIFICIAL INTELLIGENCE EMERGED
Being an advancement from engineering and science, artificial intelligence is a product of continuous research, improvements, and quests for a more effective approach to engineering and science, cost management in productions, and demands for higher quality in finished products, etc.
This implies that artificial intelligence did not just emerge rather it is a product of human efforts to make life better because there are demands for better products, speed, reliability, accuracy, etc. which are parts of what triggered early engineers and scientists to look for something better to offer.
The obvious aspect of these factors that drove us to AI is still before us to date. To date, humans have not stopped demanding better products to make life easier. The evidence of the demand can be seen from the quick swift to any new invention in the form of new and better products.
To make profits and provide answers to humans' demands, modern engineers and scientists have to keep on improving on existing technologies and inventing of new ones and that is how artificial intelligence emerged.
THE EARLY INDUSTRIES AND THEIR CHALLENGES
Early engineering suffered a lot of trial and error methods, failed production plans, waste of materials, wrong use of materials, and lack of researched knowledge for better improvements in finished products.
During the industrial revolution age, a lot of industries find they had to survive after calculating production, payments to workers and their incentives, tax payments, and the quest to produce quality products all at the same time.
These challenges placed so much production cost on the finished products, thereby making finished products to be expensive yet that may not guarantee total sustainable profits to the stockholders of the industries.
The early industries also tried every possible means to minimize waste of material and increase production output per time without increasing labor cost and overall cost of production. The purpose is to make more profits and sustain the industries.
While battling the above issues, the idea for proper calculations in job planning and continuous research and development came and became part of industrial practices. First was drawing and drafting, material evaluations, production time estimation, and possible cost of production.
HOW STAGES OF INTELLIGENCE AIMED AT TECHNOLOGICAL IMPROVEMENT OVER THE YEARS LED TO ARTIFICIAL INTELLIGENCE & BEYOND
Artificial intelligence did not just emerge from somewhere and caught the world by surprise, it had been in existence but was passing from one stage of improvement to another, even at this stage, AI is going beyond AGI, and the Smart Technology era. Here is a detailed list of stages telling you how it began over the years and how we got here. Also telling you what to expect next after now:
TECHNICAL INTELLIGENCE
The first step made toward artificial intelligence in the industrial section was TECHNICAL INTELLIGENCE.  What is technical intelligence? It is the ability to study, understand and evaluate every aspect of production as regards product accuracy/quality, low material waste, the cost of production, and profits associated with it.
This method involves technical drawing using plane boards, T-square, angles –squares, French curves, compasses, Pencils, Rulers, Dividers, protractors, and Erasers, etc.
These drawing tools are used to draw the exact intended product on a sheet of white paper. The dimensions specified on the drawing correspond to the actual dimensions of the product after production.
In this approach, if there will be a mistake after production, the mistake will first show up on the drawing making it easy to be corrected with an eraser because the cost of producing an inaccurate product can lead to rejection which implies a waste of material and overall production cost to the industry.
The use of technical drawing had been the fundamental approach toward production in engineering and serves as part of the Technical Intelligence used by the early engineers.
This approach is the most neglected and rarely talked about when it comes to technical intelligence used by early engineers. Material Analysis was carried out by the early engineers even though there was little knowledge then regarding materials and their properties as well as the best area of their application.
The little knowledge of material properties was used to consider the right material to be used on certain products, parts, engines, etc. the chemical industries made use of this approach more than others in the form of a chemical equation, reactions, and end results analysis.
Material analysis solved lots of unnoticeable challenges for the early engineers especially in improving the overall quality of finished products.
Making a prototype of the drawn product will enable the engineers to evaluate the finished prototype time and the cost of its production and then check its accuracy with the diagram on plain paper. Whatever, the prototype gave in the production process will provide room for further correction on the drawing, possible product testing, and service evaluation.
Once the prototype satisfies the intended purpose, the product can be approved for mass production using the drawing provided during the prototype production.
This technical intelligence helped early industries to cut down material waste, time waste, and improved product quality, among other benefits
Job Allocations
This approach was used in early engineering to help speed up operations, maintain quality, and reduce labor costs. Job allocation simply means assigning specific functions to individuals.
Everyone in the crew has a specific role in the everyday production process. This approach encourages specialization in the overall operation of the industry.
Job allocation made early workers stick to one duty every day during production. It could be Drawing a drafted product into accurate dimensions, picking and arranging finished products, and pushing and pulling necessary equipment during production, among other duties.
This approach is considered to be part of technical intelligence adopted by the early engineers in ensuring improvements in industrial processes and finished products.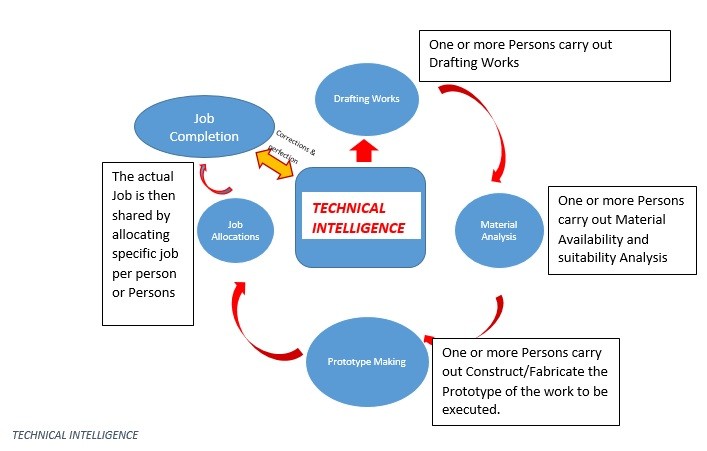 TECHNICAL INTELLIGENCE CHART
EVERY JOB WAS CARRIED OUT BY HUMANS; From Drafting Works  to Material Analysis to the Prototype Making, then to the mass production, the Job Allocations follows next, Job completion and corrections after inspection bring the job to its perfect stage = TECHNICAL INTELLIGENCE
FIRST AUTOMATION INTELLIGENCE
Automation intelligence emerged in the early industrial revolution due to increasing demand with low supply, high rate of downtime, lack of labor, labor cost, intricacy in some jobs, and physical strength or power to move heavy equipment.
Early engineering developed wooden pulleys and ropes to form cranes for lifting heavy objects to high places, some of the early cranes are movable (portable) making them easy to be applied in wider areas.
Automation intelligence made the early engineers also buy the services of animals like horses, Oxen, Bulls, and elephants in moving heavy equipment and operating heavy cranes. The early crane technology found its use mostly in building projects and other civil engineering jobs.
The early cranes used in the industries have similar working principles and were moved by animals stationed inside the factory. When the use of animals yield a great result in moving equipment, most technicians quickly started making Carts and providing places where the cart can be anchored to animals using ropes. The early transportation system quickly changed face from normal animal transportation to Carts Transportation driven by Animals, especially Horses.
The automation intelligence created the base that other modern engineering used to develop more ideas. Horses played vital roles during this stage of technological development.
From carrying humans, loads, Pulling Carts, and Cranes, Horses equally found special jobs in the factories like pulling grinding mills, dragging of semi-automated equipment, and making it possible to have the power to move industrial machines.
Though there was a serious shortage of power for the industries, as at then the development of electricity for industrial applications was still under construction, the world knew that a great change is coming for the industries and the world at large.
Early intelligence in engineering made it possible for automation ideas to spring up. First of all, the need to increase production and reduce production costs at the same time led to ways of seeking improvement.
Engineers started designing machines that can do one job repeatedly if driven by an animal or driven by any other mechanical means. This idea helped to develop the early Newspaper industries, Textile Mills, and Flour mills. Later on, forging and metal-making industries adopted the same idea.
During this stage of industrial improvement, animal(s) can be anchored to particular equipment in such a way that when they start running, their translation motion will result in the heavy pulling of the equipment link mechanism connected to the animals.
The link mechanism has a special link arrangement that translates the pulling effects from the animals into a crank mechanism resulting in the rotational motion of the crank. The last motion is what the machine needs to operate.
In that case, the machine will continue to operate as long as the animals keep moving their legs to exact pull on the link connect to their neck. This idea made the early industries operate effectively in the absence of electricity.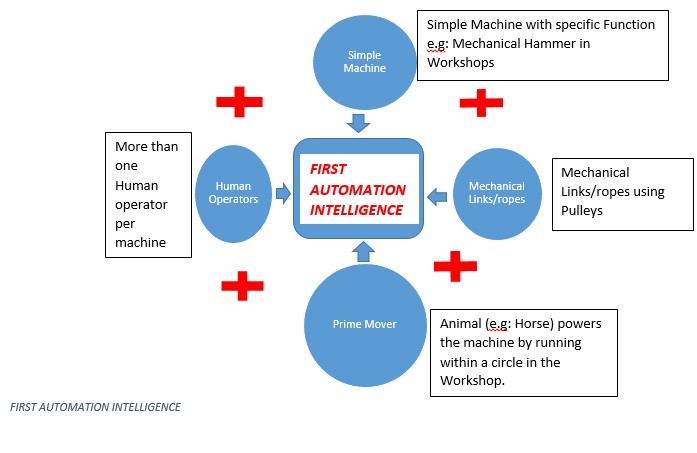 FIRST AUTOMATION INTELLIGENCE CHART
Simple Machine + Mechanical Links/ropes + Animal Pull or push + Human Operators = FIRST AUTOMATION INTELLIGENCE
POWER MACHINES INTELLIGENCE
Power machine intelligence is an advancement of Animal-powered mechanisms. Instead of being driven by animal, early engineers were able to design and built steam engines. These steam engines became the dominant source of power within a short time of their existence.
From small steam engines that power automobiles to heavy-duty steam engines that power industrial machines, railway trains, ships, and Power stations. The entrance of the steam engine brought a unique change in technology globally.
The change at this stage was felt in all aspects of human existence. For instance, the discovery of steam engines and steam turbines made it possible to generate enough electricity for human consumption, and industrial applications and helped engineers run into more advanced ideas.
The availability of electricity for the industries quickly made electrical industries spring up. The building of varieties of electric motors for powering machines became a major investment. Mechanical engineers quickly used the opportunity to advance the design and working principles of industrial machines.
The existing machines were quickly modernized to use electric motors as a source of power or simply said "Prime Mover" while the automobile industries are busy building steam engine powered vehicles as the latest technology, the industrial sector started moving from animal automation as the prime mover to electric motors powered machines.
Later on, the internal combustion engines came in to displace steam engines in various areas of engineering applications such as automobiles, Boats making industries, and other vital areas.
It is also at this stage that the early engineers were able to build the first stable and usable aircraft that can be used for reasonable transportation. Internal combustion engines became an option for industrial machines where electric motors are not needed as the prime mover.
At this stage, real automation has begun. Machines run 24 hours with a steady electric supply to the industries increasing production, maintaining quality, and helping the industries to use less manpower which had been the aim of the early industrial revolution.
POWER MACHINES INTELLIGENCE CHART
Machine + Link Mechanisms (belts, chains, gears, hydraulics, pneumatic, etc.) + Electric Motor(s) or Internal Combustion Engine(s) + more than one operator = POWER MACHINES INTELLIGENCE
POWER MACHINES AUTOMATION INTELLIGENCE
This age of intelligence followed immediately after the invention of power machines. The era got machines powered by electricity and internal combustion engines, however, the machines are fully operated by humans' inputs.
In other words, the ON/OFF functions of the machines can only be done by the human hand. The lever speeds, gear changing, lubrication fluids circulations, etc. were all assisted by operator support. The early powered machines usually have more than one person as an operator since there are many jobs to be done to keep the machine running.
Power machines automation intelligence ushered in an improved version of powered machines. This is the age that early center lathe, and milling machines were built.
The age saw improvement in powered machines in the area of automatic feeding of cutting tools, materials, or products, automatic speed adjustments, automatic circulation of lubrication, and automatic shutdown in case of emergency.
These new improvements in the early power machines were carried out using special mechanisms connected with hydraulic and pneumatic systems, gears, cams, belts, chains, links, etc. thus every machine manufacturer was able to come up with a special design for his machine model.
At this stage, early powered machines got semi-automation functions making it possible for one operator to handle one machine conveniently without needing additional support at the same time, the operator works with less physical strength since most of the minor functions are now automated.
As of 1950 some of these features have already started appearing in industrial lathes, milling machines, and sharping machines.
This age equally saw a great change in automobiles both in design, functionalities, quality, and driving mechanisms. Therefore, I refer to it as the power machine automation intelligence age.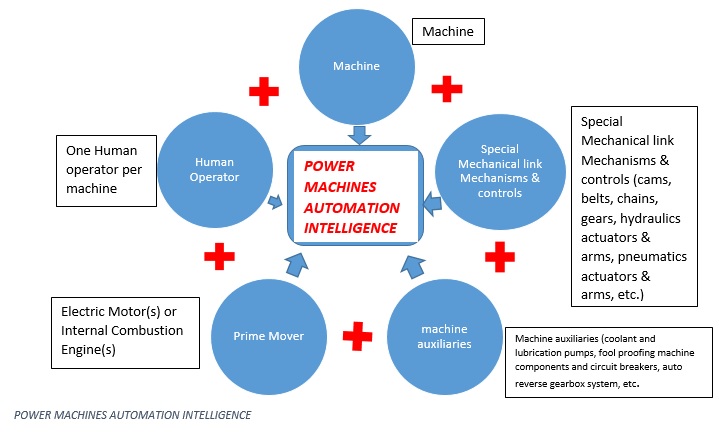 POWER MACHINES AUTOMATION INTELLIGENCE CHART
Machine + Special Mechanical link Mechanisms & controls (cams, belts, chains, gears, hydraulic actuators & arms, pneumatic actuators & arms, etc.) + machine auxiliaries (coolant and lubrication pumps, foolproofing machine components and circuit breakers, auto-reverse gearbox system, etc. )+ Electric Motor(s) or Internal Combustion Engine(s) + one operator per machine = POWER MACHINES AUTOMATION INTELLIGENCE
ELECTRICAL ELECTRONICS INTELLIGENCE
The entrance of Steam engines and the introduction of power stations and stable electric supply made the electrical electronics industries spring up.
From the making of filament bulbs, capacitors, resistors, transistors, and electric bells, to the making of early telecommunication devices.
This stage of technological improvement ushered in safety, stability, and power control for the existing electric machines which usually run into problems due to lack of control.
High voltage, instability, and lack of electronic control made the electric motors record frequent damage from overheating, power surge, thunderstorm attacks, etc.
The electrical electronics intelligence stage reduced these challenges and ushered instability in the industrial sector.
During the stage of electrical electronic intelligence, the world felt the new improvements and their impacts on the industries. However, there were records of fire outbreaks from electricity, machine failures, electrocutions, and a high level of fear of touching or coming close to any electrically powered machine.
To step down the fear and lack of safety during this level of intelligence, early engineers went into further research to know the best way of controlling electricity and the machines at large for the safety of humans and the world at large.
Silicon chips, graphite, and many semi-conductors in the metal category were used to develop the controlling devices for electricity many of such devices are still in use to date. This era became the electricity age.
They enjoyed free electricity, stable and steady though with low safety control as we have today. This was when further research emerged in discovering other vital machines, devices, and tools that can either be powered by electricity, control electricity, produce sound, or be used for electrical electronics applications.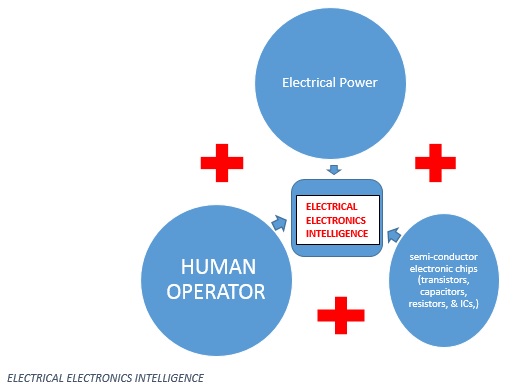 ELECTRICAL ELECTRONICS INTELLIGENCE ELECTRICAL ELECTRONICS INTELLIGENCE CHART
Electrical Power + semi-conductor electronic chips (transistors, capacitors, resistors, & ICs,) = ELECTRICAL ELECTRONICS INTELLIGENCE
COMPUTER INTELLIGENCE
Computer intelligence has to do with the computer age. The story of computers started in 1822 when the first pioneering effort in the development of modern computers was initiated by Charles Babbage, a Cambridge professor of Mathematics who made a different machine.
This difference machine existed for almost a century and was mainly used for calculation purposes only. About a century later after Charles's Invention, the discovery of thermionic valves and transistors emerged.
These allowed the implementation of Babbage's advanced ideas, giving us the automatic electronic digital computer. Afterward, discrete components were replaced by integrated circuits (ICs) making the early computer become reliable and ushering in the idea of micro-miniaturization.
Not long afterward, the existence of modern electrical electronics devices came into the world of engineering. The early computer developers were quick to sort out other areas of application the computer can be used.
This research ushered in a new era of intelligence beyond mere calculations and data storage jobs carried out by the early computers.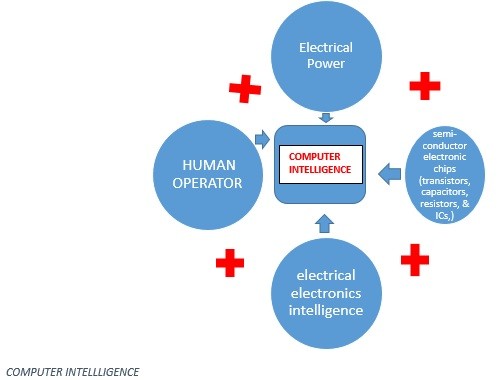 COMPUTER INTELLIGENCE CHART
Electrical Power + semi-conductor electronic chips (transistors, capacitors, resistors, & ICs,) + electrical electronics intelligence + Human Operator= COMPUTER INTELLIGENCE
PROGRAMMING INTELLIGENCE
At the time Charles Babbage was building his computer in 1822, a young lady named Augusta Ada Byron worked with him. She was known to have developed the first program that was used by the early computer.
Her program expanded the scope of computer applications and gave the early engineers more ideas of how far the functionalities of computers can be improved.
With the first program running on the early computer, other programs were quickly springing up and finding their unique use in the early computer. Not so long, the computer became a multipurpose electronic machine depending on the program it was running with.
The programming intelligence stage forced the making of computers to become a major way of advancing the already existing technological improvements. From typing and printing to data storage, communication, and analysis, the early computers continued to add more functionalities as time goes on.
The size of the early computers could occupy the whole sitting room including its monitor yet the memory, speed, and other features could not match the 2020 models computers, the improvements in the electrical electronics intelligence over the years have helped to bring these obvious changes.
The programs written for the early computers later became software by name in modern terms though many still call it program. This stage of intelligence brought the world to the Digital stage where information can be stored in the software of computers and be retrieved later.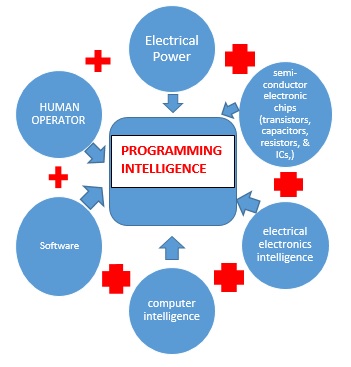 PROGRAMMING INTELLIGENCE CHART
Electrical Power + semi-conductor electronic chips (transistors, capacitors, resistors, & ICs,) + electrical electronics intelligence + computer intelligence + Software + Human Operator= PROGRAMMING INTELLIGENCE
INTERNET SERVICES INTELLIGENCE
Within few years that full computer programming came into existence, there was a new innovation known as an internet facility.
This new level of intelligence brought a new method of control, signal, and accessibility known as "wireless connections".
The internet service intelligence immediately enhanced the functionalities of the late 20th century computers making it possible for computers to share information through wireless connections.
Though the early internet facilities were very slow, bulky, and costly to run, the computer and software industries quickly adopted the technology to enhance the already existing functions in the computers made possible by the programmed software. Besides that, new functions were equally added.
Not quite long during this age the idea of networking, the making of the global community, synchronization of computers, online information storage, etc. came into existence.
As of the 21st century, there are already websites that store information online for other computers to access with a wireless connection using the existing internet facilities. This ushered in the modern online world that now has over one million websites that share information in different fields of study.
Nevertheless, the 21st-century telephone-making industries experienced drastic change due to the new innovations and moved the technology in telecommunication towards the making of mobile Telephones that can use the available wireless technology in existence.
They also quickly adopted the computer functionalities to make special software programs for telephones such that the new mobile telephone can equally access the internet facility, share information, and store them through wireless connections.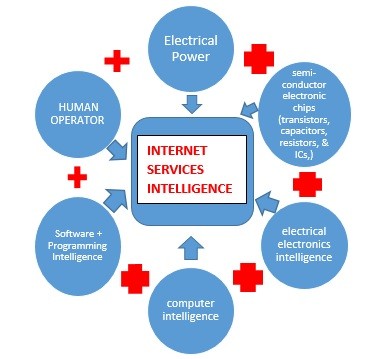 INTERNET SERVICES INTELLIGENCE CHART
Electrical Power + semi-conductor electronic chips (transistors, capacitors, resistors, & ICs,) + electrical electronics intelligence + computer intelligence + Software + Programming Intelligence+ human Operator = INTERNET SERVICES INTELLIGENCE
ARTIFICIAL INTELLIGENCE (A.I) or ARTIFICIAL NARROW INTELLIGENCE (ANI)
The age of artificial intelligence also known as "ARTIFICIAL NARROW INTELLIGENCE" preceded the age of programming intelligence. A modern age that comprises all existing intelligence put together.
Artificial intelligence is a modern improvement to all the intelligence that had been springing up over the ages. It is about using programs to operate machines automatically, when we say "machines" it implies computers, phones, electric motor-powered machines, Internal Combustion engine-powered machines, and even solar energy-powered machines, etc.
All the machines in this age of artificial intelligence are automated using software programs, timing circuits, and special electronic panels. The age of artificial intelligence brought the age of automated machines running with software programs.
Though this took the world a long time to actualize finally we are here, the "AGE OF ARTIFICIAL INTELLIGENCE" also known as the age of "ARTIFICIAL NARROW INTELLIGENCE" where specific jobs are carried out by machines WITHOUT FULL-TIME OPERATOR. Under this age of artificial intelligence we now have the following in all aspects of engineering:
SECOND AUTOMATION INTELLIGENCE
The second automation intelligence age followed the artificial intelligence discovery. It is the combination of existing machines, electronic panels, and software programs.
The three already existed before now but had been on continuous improvements within each section of the intelligence.
Artificial intelligence was able to gather modern versions of existing intelligence together for the sole purpose of automation.
Instead of having a computer that stores data and minor functions, we now have computers that are automatically controlled by software programs determining the auto-shutdown and wake-up functions, auto-record events, facial recognition computer locking, and finger-prints computer locking system.
The advanced aspect of it all is the computer program that runs a full-plant production line controlling hundreds of machines automatically from a single unit, those are what the "second automation intelligence brought to modern engineering"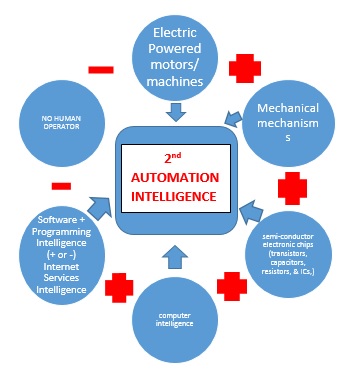 SECOND AUTOMATION INTELLIGENCE CHART
Electrical Powered motors/machines + semi-conductor electronic chips (transistors, capacitors, resistors, & ICs,) + electrical electronics intelligence + computer intelligence + Software + Programming Intelligence (+ or -) Internet Services Intelligence + NO HUMAN OPERATOR= SECOND AUTOMATION INTELLIGENCE
ARTIFICIAL INTELLIGENCE ROBOTICS
Robotics is popularly known as robotic Technology. This is a technology that had been in gradual development over the ages but failed to achieve the expected ideas due to a lack of intelligence (automation system arrangements) that could make it function effectively.
Early robots made by humans are just for fun some can only raise their hand and leg as the only function they can perform while others are limited to a specific function of opening or closing doors, dispensing wine, dispensing specific products in shops, and in form of short distance conveyors, etc. these early robots had the gradual stages of their improvements as a separate topic.
However, the robots were controlled by powered machines and mechanical levers, gears, hydraulic, pneumatic, cams, and links mechanisms with little special electric wire connections to various parts powered by an electric motor. Such early robots saw few applications while some were merely for fun and a stepping stone for further development.
The 21st-century Robots went beyond all existing machines and early robots. It is a combination of all the listed intelligence into a special intelligence called the "ARTIFICIAL NARROW INTELLIGENCE (ANI)" or ARTIFICIAL INTELLIGENCE (Ai).
These models of robots do not only run with electrical electronics panels, electric-powered motors, links mechanisms, gears, cams, and special flexible metallic parts, rather it equally makes use of software programs, sensors, feedback systems, and with or without internet service to carry out specific jobs with greater accuracy than humans.
Modern AI robots have the potential of working 24 hours to perform their programmed tasks without breaking down. A good example is the ATMs used in Banks, Automated Traffic lights control systems, Car Assembly plant Robots, etc.
The modern age gave robots more jobs to do both in the industrial sector, commerce, Health sector, educational sector, entertainment, Agriculture, Transportation, and lots more.
The 21st-century robots are referred to as "A.I. Robots or AI Robots" or in full "Artificial Intelligence Robots" because of the numerous capabilities that made them very useful in every aspect of modern engineering.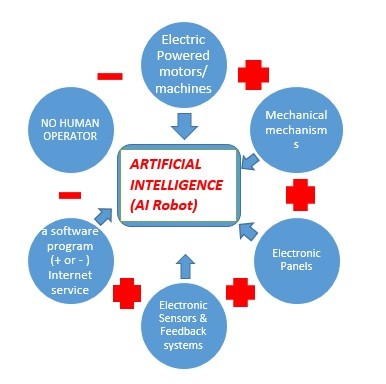 Electric Powered motors/machines + Mechanical mechanisms + Electronic Panels + Electronic Sensors & Feedback systems + a software program (+ or – ) Internet service + NO HUMAN OPERATOR= ARTIFICIAL INTELLIGENCE ROBOTS
Modern Artificial intelligence robots include industrial Robots such as Factory Assembling Plants Robots, Surgeon Robots, and other modern Health sector Robots, Agricultural Robots such as Farming robots, Commercial Robots such as Automated Teller Machines (ATM) in Banks, Self-driven Vehicles, Automated Aircraft such as Drones, and self-driving power bikes, etc. these fall into the category of modern artificial intelligence robotic technology.
The above-mentioned aspects of engineering are the improvements made by artificial intelligence and that could be said to be the age of 21st-century technological development.
WHAT IS NEXT AFTER ARTIFICIAL INTELLIGENCE?
Yes, we all are currently enjoying the AI age of automation, however, the engineers and scientists have not backed down in the quest to make life even easier.
Besides human benefits, modern machine manufacturing industries make huge financial gains from other industries such as;
health sectors,
manufacturing,
agriculture, commerce,
and entertainment, etc.
Because they buy the latest automated machines with improved functionalities, quality, and job capabilities to their services.
This desire to buy and patronize new technology is pushing robotic engineering to excel and become more innovative in artificial intelligence.
From the existing artificial intelligence, the world is now moving towards the era of "artificial general intelligence" though not yet perfected, the predictions are already on the ground.
There are researches that are ongoing that have given hope to the world at large for better technological advancements that will not only face off some of the existing intelligence but rather delete their name in the world of technology.
Let us discuss in detail the next stage of intelligence that technological advancement is moving to:
ARTIFICIAL GENERAL INTELLIGENCE (AGI)
As the name implies, it simply means advancement to the existing artificial intelligence. For clarity purposes, you may want to ask, what is actually Artificial General Intelligence? Yes, we've got the answer for you. Just take a seat with a cup of coffee to peruse further on this article.
AGI is the era of multiple artificial intelligence synchronization. The technology age has many AIs put together or working together to achieve multiple goals/tasks.
Instead of having an automated machine that does one or two tasks as obtainable in modern technology of artificial intelligence, the AGI era will have an automated machine that can perform up to ten or more tasks differently without total human control.
Besides, the world is already moving towards the age of Artificial General Intelligence. A good example is the Automated Machines used in the banking premises for dispensing cash.
The future features of such automated machines are gradually increasing from just dispensing of cash, to deposit and collection of cash, utility bills payments, account balance statement, and lots more.
This stationed robot operates 24hours and 7 days per week without shutting down, that is the era we are in; the artificial intelligence age, however, robotics engineers are making more efforts to enhance programming intelligence, internet service intelligence as well as the computer intelligence in terms of speed, memory, durability and security features.
The improvements in these sections will pave way for the Artificial General Intelligence era to step in. From the introduction of the 4G network to the current 5G network are ways of finding improvements to modern technology.
With Artificial General Intelligence (AGI), we can have automated machines that can carry out the entire banking jobs individually such as:
An automated machine that can read your Card and password show and print your account statement,
Refer you to secured rooms to collect a huge sum of money during withdrawal command,
Program your utility payment schedules for you monthly thereby making payments in your absence,
Send automated SMS to notify you of transactions taking place in your account ( this feature is already available),
Collect your cash and update your account balance and send an SMS to you as a notification,
Work as a customer care agent by recording your vocal complaints about conversational questions and forwarding them to human agents when necessary,
Equally uploading the frequently asked questions documents to find solutions to the complaint you have made. When there is no solution to your complaint, it will be sent to a human agent for further solution.
Buy and sell foreign currency to clients, etc.
Please note that some of these features are already in modern ATMs in Banks however, the new ATMs keep adding more features.
Hence, before 2050 there could be few people working inside the bank premises because 90 percent of the banking jobs could be handled by ATMs and other AI robots.
Therefore, if they are 10 ATMs or other AI robots in the Bank, it means approximately 10 bank Staff have been positioned to work 24 hours attending to various problems and those are what human bankers could have been doing during working hours only.
With Artificial General Intelligence, we can have an industrial robot in the manufacturing companies that automatically controls all other individual robots performing various tasks, making it possible to run a full production plant with a group of robots synchronized together for multiple tasks.
The era has not reached this stage of technological advancement effectively though there are traces of such technology that are still in development.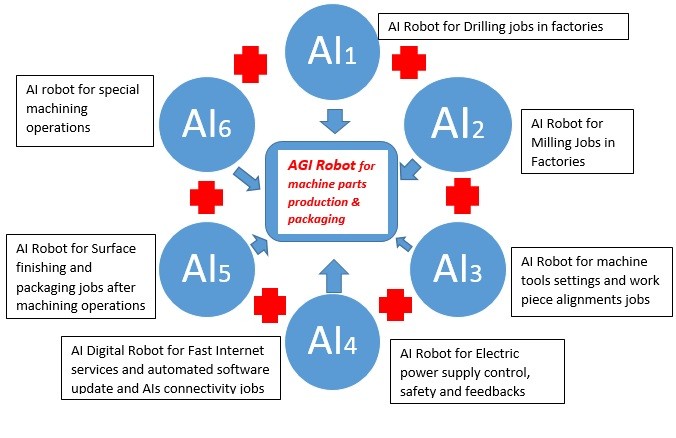 ARTIFICIAL GENERAL INTELLIGENCE MACHINE CHART
AI(1) + AI(2) + AI(3) = AGI
Having discussed Artificial General Intelligence, what is next after it?
WHAT IS NEXT AFTER "ARTIFICIAL GENERAL INTELLIGENCE"?
The full era or age of Artificial General Intelligence would commence maybe 50 years from now since the present is already in place and new technologies are updating very fast than in the previous era of technological development.
In reality, the AGI may even come fully before 50 years' time. With fast internet facilities springing up, software upgrades, more programming languages, and lots more, modern technology are moving towards unlimited possibilities.
Beyond this age of AGI, the world will be moving towards the era of "ARTIFICIAL SUPER-INTELLIGENCE" which can also be referred to as the "SMART TECHNOLOGY ERA".
WHAT IS ARTIFICIAL SUPER-INTELLIGENCE?
In a simple term, you can refer to it as the era of the 'robotic world' or 'world of robots'. 
This is an era that which robots are completely equal to humans in terms of reasoning capacities, and far beyond humans in terms of job functions and tasks because the majority of them will have multi-skills for different tasks.
Besides that, they will also have longer working hours than humans. Artificial Super-Intelligence is the age that had been predicted that humans will have few jobs to do while the rest are left to robots.
Based on predictions that in less than a century from now, Robots will take off 80 percent of human jobs, that is not a fictional statement or a fallacy.
The world of robots is approaching and there is nothing we can do to stop it except close all the research centers, further updates in software, programming, hardware improvements, and lots more.
Everything is now in place to usher in the world of robots:
Fast internet
Durable rechargeable cells
Lightweight and powerful electric motors with low energy consumption
Lightweight materials from polymer products and other products
Good knowledge of metallic alloys
Special sensors and feedback systems
Continuous update to software programs
Continues inclusion of new programming languages
And other numerous improvements in modern technology paved the way for the world of robots.
The SMART TECHNOLOGY ERA is also known as the SUPER INTELLIGENCE ERA. It will be the era of technological perfection, stability, durability, reliability, and a safe level of artificial general intelligence (AGI).
During this period, the security of existing intelligence, the perfection of the existing intelligence, and multiple artificial general intelligence (AGI) networking will become the most common thing in engineering.
This era will tend to widen the automation beyond theoretical and practical comprehension to the common man except for programmers and high-tech experts.
This is an era that which a hundred machines could be running from a single control unit of multiple programs, performing individual tasks in a carefully arranged manner that will produce a single goal.
Warehouse operations for E-commerce industries in the era of smart technology (which could be the major or only source of shopping) will be like;
Pressing a button on the website page for the delivery of a brand new Laptop you saw on the website.
You will be taken to the payment page to make a payment.
Immediately your payment is successful, Warehouse AGI Robot receives the signal of your payment using the internet facility in it.
First, it uses the product code to locate the particular shelf the Laptop had been placed on and uses automated means to convey the Laptop towards the Warehouse dispatching section or exiting door.
It then sends an automated signal to the Delivery drone stationed outside the warehouse.
The drone has separate programs that provide its delivery capabilities and the programs had been interconnected with other robots within the warehouse for proper wireless communications.
Based on the signal, the Drone flies and picks the Laptop from the location it has been positioned and receives the delivery location signal using a Google map which informs the drone about the receiver house address who placed the order for the laptop.
While on the way, the drone informs the AGI robots in the streets about the delivery which can trigger an automatic phone to start ringing or read a loud continuous voice message informing the house residents that the Laptop ordered a few minutes or hours ago will be at their door in 4 minutes.
Therefore, someone should come outside to receive it and sign for the delivery using the online passcode provided during the online payment of the item for security purposes.
Otherwise or if something goes wrong, the laptop will be returned to the warehouse automatically.
If everything is done right, you could see that multiple tasks + multiple tasks were carried out to achieve a single goal. That could be what to expect in the era of superintelligence.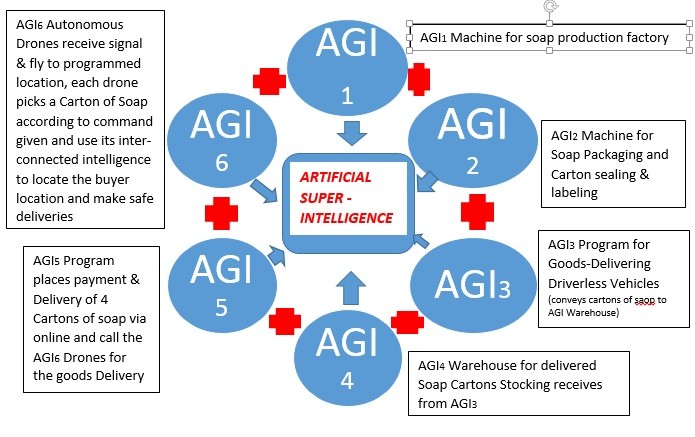 ARTIFICIAL SUPER-INTELLIGENCE CHART
SUMMARY
The infographics of Artificial Super-Intelligence can be summarized as:
TECHNICAL INTELLIGENCE
+
FIRST AUTOMATION INTELLIGENCE
+
POWER MACHINES INTELLIGENCE
+
POWER MACHINES AUTOMATION INTELLIGENCE
+
ELECTRICAL ELECTRONICS INTELLIGENCE
+
COMPUTER INTELLIGENCE
+
PROGRAMMING INTELLIGENCE
+
INTERNET SERVICES INTELLIGENCE
+
ARTIFICIAL INTELLIGENCE (A.I) or ARTIFICIAL NARROW INTELLIGENCE (ANI) (

Second Automation Intelligence & Artificial Intelligence Robotics

)

+

ARTIFICIAL GENERAL INTELLIGENCE (AGI)
=
ARTIFICIAL SUPER-INTELLIGENCE
That is ; AGI1 + AGI2 + AGI3 + AGI4 + AGI5 + AGI6 = ARTIFICIAL SUPER-INTELLIGENCE
Feel free to drop your feedback using the comment section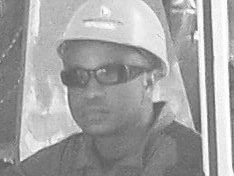 Philip is a graduate of Mechanical engineering and an NDT inspector with vast practical knowledge in other engineering fields, and software.
He loves to write and share information relating to engineering and technology fields, science and environmental issues, and Technical posts. His posts are based on personal ideas, researched knowledge, and discovery, from engineering, science & investment fields, etc.
Please, subscribe to our email list and follow our social media pages for regular and timely updates.
You can follow EngineeringAll social media pages by typing "@ EngineeringAlls" in any social media search form (Facebook, Twitter, Linkedin, Pinterest, Tumblr, etc).
You can submit your article for free review and publication by using the "PUBLISH YOUR ARTICLE" page at the MENU Buttons.
If you love this post please share it with your friends using the social media buttons provided.