The high cost of aluminum roofing sheets has made difficult for individuals with low income to build their house with the sheets. However, there is a little difference in price between the long-pan aluminum sheets and the short-pan, such that most builders go for the short-pan because of its lower cost.
Different roofing companies are finding ways to make materials for roofing affordable and also give good looks, but this cannot be actualized without incorporating other materials that are not aluminum and such materials must be cheaper than aluminum sheets so that the goal can be actualized. Under the arrangement, materials such as zinc sheets, corrugated iron sheets, asbestos sheets, and plastic sheets, etc. had been on re-modeling and re-designing to see how best they can replace the expensive aluminum roofing sheets.
Most of the sheets listed had been alternatives to aluminum roofing sheets even before now but the problem was that their credibility cannot be matched to that of the aluminum sheets. A good example is the plastic roofing sheets which seem to be the cheapest but has huge disadvantages over the aluminum sheets. Some of the huge disadvantages of plastic roofing sheets includes;
Lightness of the roofing sheets,
Low thickness of the roof sheets,
It only comes in short-pan; therefore will consume more woods in making their skeletons,
Because of their lightness heavy breeze or wind usually, pulls them off their position or completely out of the roof,
They cannot completely reduce or eliminate heat and radiation from the sun during hot sunny hours when compared to aluminum sheets,
They can break under continues heavy wind attacks and so many other disadvantages.
Since the least among all the roofing sheets have such numerous disadvantages over the most expensive aluminum roofing sheets, many people prefer using aluminum sheets despite the high cost. Therefore for the above reasons, most people limited the use of plastic roofing sheets for front roofing of boutiques, restaurants, shops, motor parks, and sealing of open places in uncompleted church buildings, or small local factories or production areas, etc. the for such is because of the good look it provides and the ability of the roofing sheet to provide a high visibility to any area it is used as a shelter because of its ability in allowing some radiation of lights to pass through it.
However, experience has shown that roofing a house with quality zinc sheets that are highly resistant to corrosion and using aluminum sheets as the ridges and frames will still give good look and last very long,(between 15 to 20 years) under good atmospheric conditions.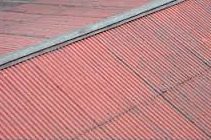 This pattern of roofing can be seen mostly in villages and some places in cities. Though not so good looking as full aluminum roofing, it costs far less than roofing with aluminum sheets. Since the builder will only buy bundles of zinc sheets and buy long frames and ridges made with aluminum sheets of a different color from the zinc sheets color so that it can bring out the beauty of the roof.
Originally posted 2017-08-08 11:53:13.