Types of Aluminum Roofing Sheets & Prices
The modern building designs have made it necessary for changes in roofing. Before now, building a house and putting a roof on it has one single purpose which is to shelter the house against the wind, sunshine, raindrops, and for security reasons as well.
Modern roofing reflects how far humans have gone in terms of civil engineering. Houses now have hundreds of roofing patterns to choose from. Each of these patterns is either for one special consideration or for aesthetic purposes only.
Roofing a house is now one of the ways to reflect the beauty of the house. As well as make a great difference between your house and some of the existing buildings around.
For instance, in Nigeria's developing Cities one can readily distinguish between newly-built houses from an existing ones based on their roofing styles.
While older houses are known for simple roofing designs, shorter roofing heights, and older roofing sheets sold in the Nigerian markets, the new houses rather reveal complicated or intricately designed roofing patterns, higher roofing heights, and modern roofing sheets available in the market.
Some with building experience in Nigeria can understand that the roofing heights of the old building do not exceed 9-feet while the modern houses' heights can be as higher as 15-feet.
We shall drop details of the roofing sheets' heights and why they are very important in our subsequent posts. In the meantime let us focus on telling you the various types of aluminum roofing sheets and their prices in Nigeria as of June 2020.
Things you must know about the modern Aluminum Roofing sheets
The prices of aluminum roofing sheets had never been stable as the record shows rather it keeps increasing following the continuous inflation occurring in the prices of imported goods.
The obvious reason behind this occurrence is that majority of raw aluminum sheets used in the making of the aluminum roofing sheets are being imported from different countries, especially China.
Hence, any of that foreign currency appreciation in the forex market will hit back at the overall cost used in purchasing and processing the aluminum roofing sheets. In this case, the end result will be an increase in the overall market price.
Irrespective of the location you are in Nigeria, the prices of aluminum roofing sheets tend to remain the same however, there are slight prices difference for those in Lagos, Onitsha, aba, and Kano.
These areas have a larger number of aluminum roofing sheets dealers, they have wholesalers and even aluminum roofing sheets manufacturers in these locations. What the majority do is to get the raw aluminum sheet imported into the country then roll it into any roofing sheet pattern, bundle it, and sell it to the wholesalers.
Considering the above method, one can now know why roofing sheets prices are going up and different roofing sheets patterns are coming up on daily bases.
Latest Types of Aluminum Roofing sheets
The modern aluminum roofing sheets have to do with the thickness, length and width, and the design pattern.
For instance; we have short span aluminum roofing sheets, Long span aluminum roofing sheets, Step-tiles Aluminum roofing sheets, Metcoppo aluminum roofing sheets, etc. these roofing sheets types can be from any company name or brand.
However, their prices always reflect their thickness and measurement per meter.
SHORT SPAN ALUMINUM ROOFING SHEETS
The modern short-span aluminum roofing sheets have got many surface designs and widths available in the market. The same goes for their thickness. Though it will be difficult to tell you the exact amount for each, we can tell you the expected market price for all the short-span aluminum roofing sheets.
The first short-span aluminum roofing sheet popularly known as the Cameroon aluminum roofing sheet now sells at an estimate of N1500 per sheet for plan/zinc color and N1900 for the colored sheets. It measures 8-feet in length and 4-feet in width.
The new designs roughly cost N2000 per sheet. Some have longer lengths and shorter widths as compared to the old design. Some even have more thickness than the old design.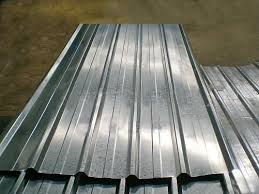 LONG SPAN ALUMINUM ROOFING SHEETS
The modern long-span aluminum roofing sheets are the center of it all, in other words, it stands in the middle to distinguish average houses in Nigeria from special houses.
Though still costly, this roofing sheet still remains the best choice for almost 60% of modern houses because the price is the cheapest aluminum roofing price in Nigeria for long-span aluminum roofing sheets.
The same varieties that exist in short span aluminum roofing sheets also exist in long span aluminum roofing sheets though the thickness variations are not much, the dealers always try to sell their frequently asked thickness and colors.
As of 18th September 2021, the plane design of long-span aluminum roofing sheets sells approximately N2,400 per meter for 0.45mm thickness and N2,900 per meter for 0.55mm thickness.
As mentioned earlier, the difference in color and thickness always reflects the price difference. Moreover, most dealers can decide to give you a discount considering the quantity you want to purchase.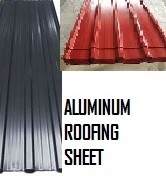 STEP-TILE ALUMINUM ROOFING SHEETS
Just as the name implies the same goes with the physical appearance of the roofing sheet. Step-tile aluminum roofing sheet has step arrangement on its surface arranged in a descending order towards the end that will face down during the roofing sheet positioning and nailing on the roof.
The design has a special advantage of roughness and rigidity making it appear stronger and heavier than the normal long-span aluminum roofing sheets. Though the two come with the same measurements and thickness.
As of 18th September 2021, the price of a Step-tile aluminum roofing sheet is approximately N2,650 per meter for 0.45mm thickness and N3000 per meter for 0.55mm thickness.  Any price change will be determined by the merchant and the discount offered to you as well as the quantity you want to buy.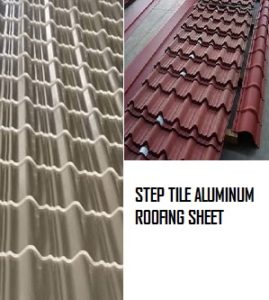 METCOPPO ALUMINUM ROOFING SHEETS
Metcoppo aluminum roofing sheet is another version of long-span aluminum roofing sheet having its unique surface design and appearance. Though it comes in different colors as other aluminum roofing sheets do, the Metcoppo aluminum roofing sheet is unique, stronger, and heavier, and still at the same measurement and thickness as the rest long span aluminum roofing sheets.
By description, the Metcoppo aluminum roofing sheet has a ridges design similar to step-tile aluminum roofing sheets. In other words, it has a wave-front design cutting across its widths horizontally.
The space between each wave-front design to the next wave-front design is about 1-feet. Each rising on the wave0front is approximately 10cm width making up about 7 upward rising of the wave-front on one sheet entire width.
The design of the roofing sheet makes it stronger, heavier, and rougher than its predecessors.
As of 18th September 2021,  Metcoppo aluminum roofing sheets have an approximate price of N2,750 per meter for the 0.45mm thickness and N3,150 per meter for the 0.55mm thickness.
The changes in price will be determined by many factors such as the merchant's discount, quantity, location, etc.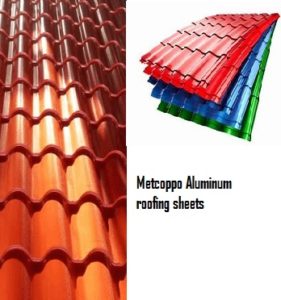 OTHER TYPES OF ROOFING SHEETS AND THEIR PRICES IN NIGERIA
These types of roofing sheets make a great difference from the rest when used in a building. In other words, houses with such roofing sheets are classic, aesthetic, and obviously stands-out among the houses around them.
Though costlier, their prices seem to pay off in the long run but to the prestige they offer and their durability as well as beauty.
SWISS ROOFING SHEETS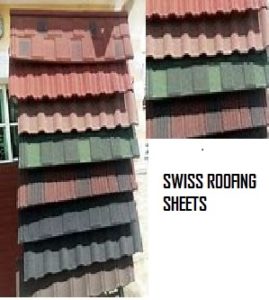 Though still made with aluminum, this roofing sheet does not in the form of the long-span aluminum sheets types described earlier.
Rather, this type of roofing sheet comes in square meter pieces. With so many color varieties, in most of them, you can mixtures of various colors on one square meter surface.
The swiss roofing sheet is strong, durable, aesthetic in appearance, rough and thick in appearance as well as when handling it, it is durable and highly corrosion resistant.
However, it has the disadvantage of being costlier than other types of aluminum roofing sheets.
As of 18th September 2021, Swiss Roofing sheets approximately sell at N4, 100 per square meter for its normal-gauge thickness and N5, 200 per square meter for its higher-gauge thickness
There is actually no fixed market price that mandates the dealer to sell at this price to you, the word "approximate" means it could be higher or lesser. Hence, the entire price can be affected by so many factors to make it either higher or lesser, it all depends on the merchant and your bargaining power.
Besides, the above-mentioned roofing sheets, there are so many other roofing sheets that exist in the Nigeria roofing sheets markets. However, being precise about aluminum roofing sheets, the above-mention types and prices reflect the existing ones currently in the market.
There are other types of roofing sheets that are not aluminum roofing sheets examples of them are:
Fibre Britment Roofing sheets
Asbestos-ceramic roofing sheets
Concrete-tile roofing sheets
PVC or Plastic roofing sheet
Corrugated Zinc roofing sheets
Polycarbonate roofing sheets
And so many others.
CONCLUSION
The details of some of this roofing had been posted earlier while some are yet to be published. Do us a favor to contribute if you need us to add more information to this one, use the comment form, Publish post page, and question page to give us your feedback.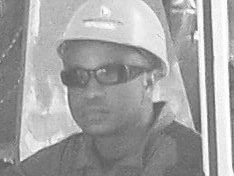 Philip is a graduate of Mechanical engineering and an NDT inspector with vast practical knowledge in other engineering fields, and software.
He loves to write and share information relating to engineering and technology fields, science and environmental issues, and Technical posts. His posts are based on personal ideas, researched knowledge, and discovery, from engineering, science & investment fields, etc.
Please, subscribe to our email list and follow our social media pages for regular and timely updates.
You can follow EngineeringAll social media pages by typing "@ EngineeringAlls" in any social media search form (Facebook, Twitter, Linkedin, Pinterest, Tumblr, etc).
You can submit your article for free review and publication by using the "PUBLISH YOUR ARTICLE" page at the MENU Buttons.
If you love this post please share it with your friends using the social media buttons provided.