Toyota Avalon 2015 vs Lexus ES 350: Which One Is Better?
Step right into the ultimate face-off between two top-notch luxury sedans: the Toyota Avalon 2015 vs  Lexus ES 350. These cars are the epitome of elegance, comfort, and advanced features, which makes it a real challenge for potential buyers to pick one over the other. But fret not! In this comprehensive comparison, we'll dive deep into their exterior designs, interior features, performance, safety, comfort, value, and more. By the time you're done reading, you'll have a clear picture of which car suits your needs best.
Let's kick things off with their looks. Both the Toyota Avalon 2015 and the Lexus ES 350 are designed to turn heads on the road. They have those sleek curves and eye-catching details that make them stand out in a crowd. On the inside, it's pure luxury. The interiors of both cars are loaded with top-notch features, ensuring you travel in style and comfort.
When it comes to performance, these sedans mean business. Their engines deliver smooth rides and power you'd expect from luxury vehicles. Safety is a top priority too, with advanced features to keep you and your loved ones protected on every journey. But it's not just about looks and performance; comfort matters too. Both cars excel in providing a plush and serene ride, making every trip a pleasant experience.
So, buckle up and join us as we take a close look at the Toyota Avalon 2015 and the Lexus ES 350, helping you pick the luxury sedan that best suits your preferences and lifestyle.
I. Exterior Design:
Exterior design is a critical aspect of any vehicle, as it is the first impression that captures our attention and sets the tone for the overall driving experience. When it comes to the Toyota Avalon 2015 and the Lexus ES 350, both models showcase distinctive and appealing aesthetics, each catering to different sensibilities and preferences.
Toyota Avalon 2015: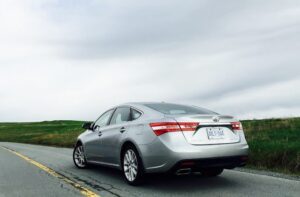 The Toyota Avalon 2015 presents a sophisticated and modern appearance, exuding an understated elegance that appeals to a broad range of buyers. The front grille, a hallmark of Toyota's design language, features a sleek and dynamic design. It is framed by stylish headlamps that extend seamlessly into the body, creating a cohesive and fluid front-end appearance.
Moving to the side profile, the Avalon's elongated roofline and sculpted doors give it a sense of dynamism and grandeur. The car's proportions strike a balance between elegance and practicality, offering ample cabin space for passengers while maintaining a sense of gracefulness.
Lexus ES 350
On the other hand, the Lexus ES 350 embraces a bolder and more assertive design language, making it align with the brand's philosophy of "L-finesse." At the front, the iconic spindle grille takes center stage, leaving a lasting impression on anyone who lays eyes on it.
Flanking the grille, the ES 350 features distinctive LED headlights with a sharp and angular design, lending a sense of modernity and sophistication.
From the side, the Lexus ES 350 boasts a flowing and aerodynamic silhouette. The roofline gracefully slopes towards the rear, enhancing the car's sense of motion even when stationary.
While both the Toyota Avalon 2015 and the Lexus ES 350 boast elegant and appealing exteriors, they cater to different design sensibilities. The Avalon exhibits a sleek and contemporary look, appealing to those who prefer understated elegance and a timeless design. On the other hand, the ES 350 embraces a more assertive and luxurious aesthetic, capturing the attention of buyers seeking a bold and expressive presence on the road.
2. Interior Features:
Interior features are a defining aspect of any vehicle, as they contribute to the overall comfort, convenience, and driving experience. Both the Toyota Avalon 2015 and the Lexus ES 350 excel in providing luxurious and well-appointed interiors, each offering a unique blend of amenities and technologies.
Toyota Avalon 2015:
The Toyota Avalon 2015 greets passengers with an inviting and elegant cabin, emphasizing comfort and functionality. The interior materials exude a sense of quality, with soft-touch surfaces and premium upholstery enhancing the overall ambiance. The seats are designed to provide excellent support and comfort during long journeys, making the Avalon an ideal choice for daily commutes and road trips.
The driver-centric cockpit ensures easy access to essential controls and features. The instrument cluster is clear and intuitive, allowing drivers to keep track of vital information without distractions. The center stack houses a user-friendly infotainment system with a touchscreen display, offering easy access to audio, navigation, and connectivity features.
In terms of technology, the Toyota Avalon 2015 comes equipped with standard features like Bluetooth connectivity, USB ports, and smartphone integration, allowing seamless integration of modern devices. Additionally, available features may include a premium audio system, dual-zone automatic climate control, and power-adjustable seats with memory functions.
Lexus ES 350:
The Lexus ES 350 boasts an interior designed with meticulous attention to detail, elevating the luxury sedan experience to new heights. The use of high-quality materials, such as genuine leather and real wood trim, exudes opulence and craftsmanship. The seats are crafted to provide a first-class experience, with available features like heating, ventilation, and even massage functions for enhanced comfort.
The driver's area is thoughtfully laid out, with controls and displays within easy reach. The dashboard features a driver-focused design, creating a sense of cocooning around the driver for a more engaging and immersive driving experience. The analog clock, a signature element in Lexus vehicles, adds a touch of elegance to the cabin.
Technology takes center stage in the Lexus ES 350, with an advanced infotainment system featuring a large touchscreen display. Lexus's Remote Touch interface, access to various functions without taking your eyes off the road. Available features might include a premium Mark Levinson audio system, wireless smartphone charging, and a panoramic sunroof, enhancing the overall driving experience.
The luxurious Lexus ES 350 also offers a range of driver-assistance and safety technologies. Features like adaptive cruise control, lane-keeping assist, and a head-up display contribute to a more comfortable, unique,relaxed and confident driving experience.
Both the Toyota Avalon 2015 and the Lexus ES 350 provide exceptional interior features, catering to different preferences and priorities. The Avalon's cabin emphasizes comfort, functionality, and user-friendly technology, creating a practical and welcoming environment. On the other hand, the ES 350's interior showcases luxury, sophistication, and cutting-edge technology, enveloping occupants in a world of opulence and refinement. Whichever model you choose, both the Avalon and the ES 350 exemplify the commitment of their respective brands to creating an unforgettable driving experience.
Step inside both vehicles, and you'll find premium materials and thoughtful design elements. The Toyota Avalon 2015 greets you with an elegant cabin, offering comfortable seating and an intuitive infotainment system. Meanwhile, the Lexus ES 350 pampers passengers with top-tier craftsmanship, plush seating, and cutting-edge technology, creating a truly luxurious environment. When it comes to interior features, the Lexus undoubtedly takes the lead, setting new standards for opulence.
3. Performance and Engine Options:
Under the hood, the Toyota Avalon 2015 packs a punch with its robust V6 engine, delivering ample power for daily commutes and highway drives. The ride is smooth, providing a perfect blend of comfort and performance. On the other hand, the Lexus ES 350 boasts a refined V6 powertrain, providing a more spirited driving experience and a whisper-quiet cabin. While both cars excel in performance, the ES 350's superior handling and responsive acceleration give it a slight edge.
4. Safety and Technology:
Safety is a top priority for both Toyota and Lexus, and it shows in the Avalon 2015 and the ES 350. Both models come equipped with advanced driver-assistance systems, including adaptive cruise control, lane-keeping assist, and automatic emergency braking. Additionally, the Lexus ES 350 offers optional safety features like a head-up display and a surround-view camera system, enhancing overall safety and driver awareness. When it comes to safety and technology, both cars are on par, leaving it up to the buyer's preference.
5. Comfort and Space:
One of the key aspects of a luxury sedan is the comfort it provides during long journeys. The Toyota Avalon 2015 boasts spacious seating, providing ample legroom for all occupants. It features comfortable and supportive seats, making it an ideal choice for long road trips. On the other hand, the Lexus ES 350 offers an even more lavish experience, with an emphasis on premium materials and additional amenities that contribute to a supremely comfortable ride. If ultimate comfort is a priority, the ES 350 stands out.
6. Price and Value:
When comparing the price tags of these two luxury sedans, the Toyota Avalon 2015 often comes at a more affordable starting price than the Lexus ES 350. However, it's essential to consider the value each car offers. The Lexus brand's reputation for reliability, customer service, and higher resale value may offset the initial cost difference over time. It ultimately depends on the buyer's budget and long-term investment plans.
7. Consumer Reviews and Ratings:
To get a real sense of what it's like to own these cars, let's take a look at what owners have to say. Toyota Avalon 2015 owners praise its reliability and overall value for money. They appreciate the spacious interior and comfortable ride, making it an excellent family vehicle. Lexus ES 350 owners, on the other hand, rave about its luxurious feel, powerful engine, and smooth handling, claiming it's worth every penny. Both models garner positive reviews, making it even more challenging to decide.
Conclusion
In the battle of luxury sedans, the Toyota Avalon 2015 and the Lexus ES 350 are formidable contenders. The Avalon impresses with its sleek design, comfortable interior, and affordable starting price. On the other hand, the ES 350 wows with its opulent cabin, powerful performance, and exceptional safety features.
Choosing between the Toyota Avalon 2015 and the Lexus ES 350 requires careful consideration of multiple factors. The Avalon excels in offering a practical and comfortable ride, with a focus on reliability and affordability. On the other hand, the ES 350 delivers a luxurious and sophisticated experience, with advanced technologies and a reputation for high-end performance.
Ultimately, your decision will depend on your individual preferences and priorities. In practicality, dependability, and a more budget-friendly option, the Toyota Avalon 2015 is an excellent choice. However, if you prioritize luxury, advanced features, and a more dynamic driving experience, the Lexus ES 350 emerges as the frontrunner.
Before making your final decision, take the time to test drive both models, assess how they align with your lifestyle and requirements, and carefully consider your budget. Whichever car you choose, you're bound to enjoy an unparalleled experience in the world of luxury sedans.
Victoria Vincent is a dedicated and passionate teacher with 3 years of experience writing engaging articles. She love cars and the automobile industry, using her writing skills to help car enthusiasts with practical advice for taking care of their vehicles. When not driving, she enjoys reading books, exploring science, and keeping up with the latest technologies.
Victoria always wants to learn more and share her knowledge with others. She loves giving car owners tips on how to maintain their cars, helping them troubleshoot issues, and showing them DIY tricks. Her goal is to empower car enthusiasts with easy-to-understand information so they can take better care of their vehicles and make informed decisions. With Victoria's guidance, car lovers can enjoy their rides with confidence and knowledge.