Adam Danyal unveils "wasteShark" a new Aquatic drone that evacuates floating waste from water
A new approach for water waste management has been adopted by introducing a new smart water drone. The robotic water drone is designed to move on the surface of the water in any direction. Its stable movements on the water surface make it possible to trace any plastic or floatable waste material on the water surface and suck it into the storage unit for evacuation later.
WasteShark is a drone with a   difference. Unlike the existing counterparts, the drone works with wireless technology and can be controlled remotely while at a particular position. Irrespective of how polluted the water might be with floating waste, the drone is meant to clear it up using its gradual and stable operation techniques.
The aquatic drone still remains irresistible equipment for the water pollution control and the water waste management team. However, the drone approach in removing waste will be for those with the slow and steady idea in the work, since its size may not permit it to gather much waste before calling home for evacuation. The collected trash is then sent to a recycling center.
Based on design, WasteShark can be described as a moving suitcase or rectangular box floating on the water surface. The design can be seen from the picture below this paragraph. It has a similar look with a briefcase measuring about 3 feet in length and 2 feet in width.
The waste suction opening is the front position of the drone while the opening is uniformly curved to make an ellipse-shaped opening. It has 12 sensors that record water data to give an overview of the underwater landscapes. The moves are tracked by GPS or remote control with in-built collision detection to stop accidents.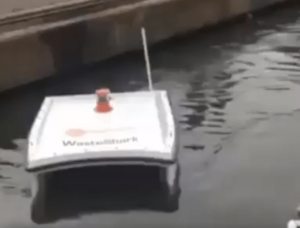 Despite the light-looking appearance of the drone, the inside contains a sizeable room for the packing of the waste collected from the water surface. However, the space seems not visible when looking at the drone while on water.
Assisted with software and wireless system, the robotic drone can cover many miles while the operator stands in a particular location. The technology running the drone has no much difference to the ones used for the surveillance drones.
Though more details may be unveiled later, as well as more improvements may be included, WasteShark remains the smallest drone made so far for floating water waste removal. During practical examination, tons of waste within a particular size limit can be removed in a few minutes.
The drone still has the disadvantage of not being able to remove large-sized floating waste such as jerry cans, large waterproofs, broken plastic buckets and much other waste that comes with big size. However, unwanted packaging bags, small plastic waste, floating debris, and duckweed remain its vital area of operation. In that case, any water with the type of waste listed later can be suitably cleaned up with the WasteShark drone.
In the calculation, WasteShark can collect up to 200 liters of trash per trip. However, it is still possible to build a WasteShark of any size both for bigger industrial applications like the Ocean cleanup projects or for smaller applications like the cleaning of pool and lakes, etc.
As a modern technology, wasteShark is an electronic machine working purely with a rechargeable cell just like modern quadcopters drones. Its cell battery can sustain the drone for about 16 hours of working time. Such is quite a long time to accomplish a reasonable water waste cleanup. Besides, it has zero carbon emission which is the main aim of the modern technology of rechargeable cells.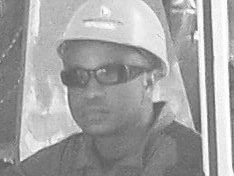 Philip is a graduate of Mechanical engineering and an NDT inspector with vast practical knowledge in other engineering fields, and software.
He loves to write and share information relating to engineering and technology fields, science and environmental issues, and Technical posts. His posts are based on personal ideas, researched knowledge, and discovery, from engineering, science & investment fields, etc.
Please, subscribe to our email list and follow our social media pages for regular and timely updates.
You can follow EngineeringAll social media pages by typing "@ EngineeringAlls" in any social media search form (Facebook, Twitter, Linkedin, Pinterest, Tumblr, etc).
You can submit your article for free review and publication by using the "PUBLISH YOUR ARTICLE" page at the MENU Buttons.
If you love this post please share it with your friends using the social media buttons provided.