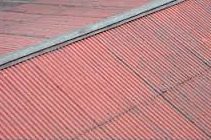 Advertisement
Getting quality roofing sheets in Nigerian market is very important since most importers and dealers will always find a way of convincing customers of ho a reliable their roofing sheets are. The question now is; are you considering going to the market to buy roofing sheets? If yes; what type of roofing sheets do you intend to buy? The reasons for the above questions is to assist you in buying quality roofing sheets.
There are more than four different materials popularly used in Nigeria for roofing purpose, which are mostly; Aluminum roofing sheets, corrugated iron sheets, alloyed metals roofing sheets (Cameroon zinc), plastic roofing sheets, and asbestos roofing sheets, etc. these materials can be used for roofing purpose but their use depends majorly on the type of roof and what the building is meant for.
While the majority of new buildings uses metro lite and long-pan aluminum roofing sheets, some economical ones use short-pan aluminum roofing sheets based on the purchasing power of the owner of the building. It can be recalled that the price of long-pan aluminum roofing sheets is very much higher than that of the short-pan. While long-pan aluminum roofing sheet is usually fixed based on measurements by the aluminum roofing companies, short-pan can be fixed by ordinary carpenter by simply calculating the number of bundles needed. Therefore, it can be explained that short-pan aluminum roofing sheets are usually sold in bundles while long-pan aluminum roofing sheets is sold in meters. While the current price of a bundle of short-pan aluminum roofing sheet is not less than N70,000 at Onitsha market and each bundle contains 50 pieces of 4 feet by 8feet aluminum roofing sheet, the price of long-pan aluminum roofing sheets of similar size may be double or more of that of the short-pan.
Advertisement
There is a need for you to identify fake roofing sheets because the market is getting clouded every day with cheaper price roofing materials claiming to be of good quality. Today we will be discussing Cameroon zinc, which is a product made from the alloy of rust resistance metals. Cameroon zinc is different from short-pan aluminum, the late is an aluminum while the first is made of zinc and other alloyed materials.
It is also important to know that Cameroon zinc is different from ordinary roofing zinc in the market. While a bundle of every zinc in the market is 12 pieces, ordinary zinc usually cost within N12,000 to N18,000 in popular markets like Onitsha, the Cameroun zinc costs much higher which may be from N20,000 to N25,000 per bundle. The question now is; why do people use Cameroon zinc for roofing instead of other roofing sheets? The answer is very simple, and that is because the zinc has very high resistance to corrosion and rust than ordinary zinc of corrugated iron sheets.
Those who want their building to be roofed at an affordable cost usually fallback to Cameroon zinc since aluminum roofing sheets are costlier to use. The use of the Cameroon zinc can get the roof fixed but the quality cannot be compared to that of aluminum, however, it is much better than that of ordinary roofing zinc which is even cheaper.
Advertisement
Now, how do we identify fake Cameroon zinc from ordinary zinc in the market? The features which define original Cameroon zinc are:
Low noise in handling:
You can know Cameroon zinc through the low sound it usually makes when handling it, than that of ordinary zinc.
Low reflective surface:
Ordinary zinc has high reflective surface due to the electroplated metals on it, while Cameroon zinc has low reflective surface because the rust resistance metals in them were alloyed and not electroplated.
Lightness in weight:
Because they contain very little or no iron in their making they are much lighter than ordinary zinc made of iron.
Very malleable like aluminum:
The alloy of malleable metals also makes the Cameroon zinc to be malleable making it behave like aluminum but not an aluminum.
No sharp edges:
The edges of the Cameroon zinc are usually blunt, i.e. not as sharp as that of ordinary zinc. The reason is because of their making materials.
Highly rust resistance:
When compared to ordinary roofing zinc, they are highly rust resistant. Evidence has shown that such zinc can last for ten years on a roof without being corroded with rust while ordinary zinc may not exceed five years on a roof before having rust appearing on them.
Originally posted 2017-12-11 08:24:58.