The internet has become the new physical. Many people are spending time on it and many more will in the future. If you are a business owner, chances are that you have a business online and higher chances are that you have your business on Instagram and you aren't, you are missing out on the vast opportunities/potential clients.
Instagram has three different forms of accounts; personal, creator and business. To have a business on Instagram using a personal account is to limit the business visibility hence, it's advisable to use either the business or creator account types but let's focus on the business account.
There are two ways to set up a business account;
Switch account type or,

Set up a business account from scratch
Switch Account Type
If you have a personal Instagram account and want to convert to a business account, you should follow these steps;
go to profile and click on the stripes on the upper right

Click on setting

click on accounts

click on switch account type
Click on the switch to a business account.You're all done! When you make the switch, you would notice new feature such as promotion, insight and add shop(this feature is subject to users location), learn more about them here. The next thing would then be to edit your profile to add a business category, business website link (if available) and contact.
Set up a New Business Account.
Step 1: Sign up using an email address
When creating an Instagram business account, it is best to avoid the use of Facebook to sign up. The reason is that your business account would be created based on your personal Facebook page and that is not a great idea.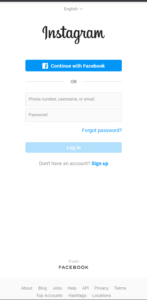 Step 2: Pick a name and password
If you already have an existing business name, that should be the business name but if you are yet to choose one, it's advisable to use a mix of your name and your business type. For example, Jamie Fabrics would go for a clothing brand.
Then you click on change username and select a username and password

Step 3: Connect to Facebook (not immediately)
You would be given the "connect to Facebook and find friends" option. It's advisable to complete your profile before following people. The reason is that you would most likely connect to your personal page. It's not a bad idea but it's better for an business page to be connected to a Facebook business page
Step 4: Edit your Bio
This involves your profile picture. Do not import pictures from Facebook, because it's almost the same as signing up with Facebook. Next, you "edit profile". This requires you to give a short and precise description of your business, a profile URL if available.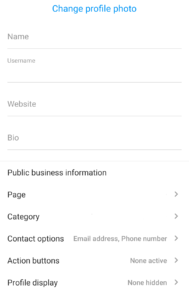 Step 5: Convert to Instagram Business
This step is the same as with switching account
Step 6: Link your Facebook page.
If you don't have a Facebook business page, you would have to create one create one at this point. This makes it easier to manage Facebook and Instagram.
All done! You are now ready to post, find friends, engage and grow your business.
Pro tip: use amazing captions and hashtags for your posts!