A $1.7 Million Motor home with its own garage is the screaming sensation in the scope of engineering. A German company has just invented a motor home called the Performance S, worth 1.7 million dollars.
ordinarily hearing about a motor home wouldn't raise a second thought of luxury in your mind, but this home is the epitome of advanced luxury.
Noth withing its interiors which we will be exploring soon, it also came with a garage. What more could we be asking for?
If you've ever dreamed of hitting the open road in the lap of luxury, the Volkner Mobil Performance S is here to make those dreams a reality.
This remarkable motorhome, priced at a jaw-dropping $1.7 million, is not your average RV. It's a marvel on wheels, redefining the notion of luxury travel.
Let's see what sets this motorhome apart from the rest. Buckle up, as we take you on a thrilling ride through the world of the Performance S, an opulent beast-on-wheels with its very own garage.
An Overview of the $1.7 Million Motor Home With its Own Garage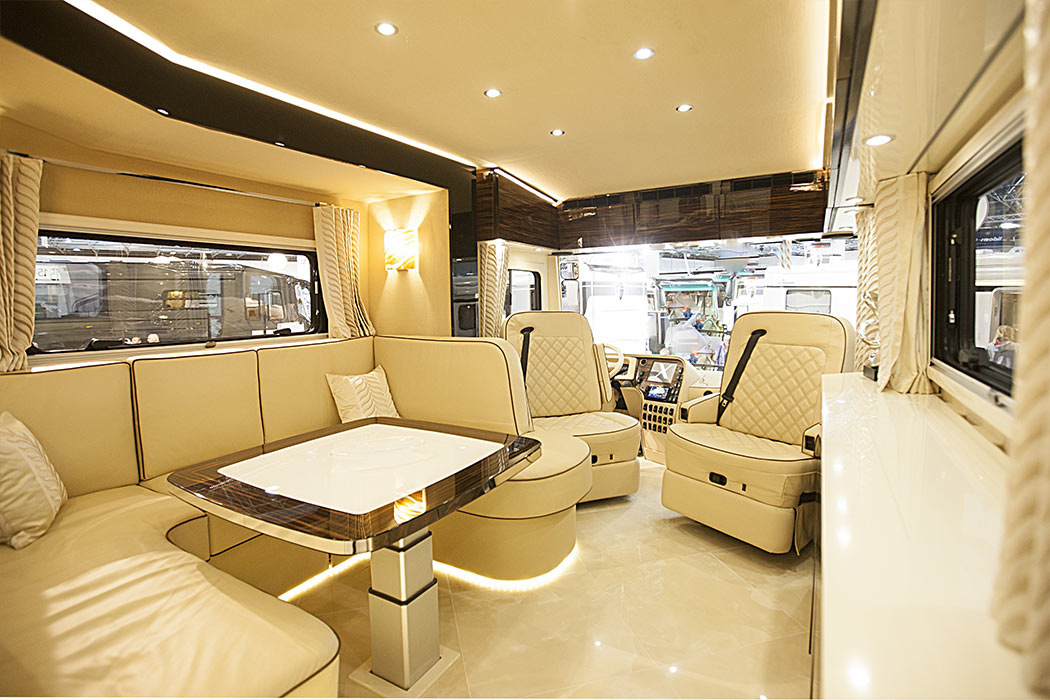 The term "motor home" may not evoke thoughts of luxury for most people, but one German company begs to differ.
A motorhome that is anything but ordinary. The Performance S, crafted by the esteemed German company Volkner Mobil, has as challenged every preconceived notion about motorhomes.
It's a sight to behold, a masterpiece that elicits gasps of admiration wherever it goes. This beast-on-wheels is a testament to the art of engineering and design. A vehicle that combines elegance and functionality in perfect harmony.
As you lay your eyes on the Performance S, its sleek exterior hints at the opulence within. Gone are the days of uninspiring camper vans, the Performance S ushers in a new era of luxury travel.
With its stylish lines and attention to detail, this motorhome commands attention, making it a statement of prestige and taste.
But that's not all; this classy caravan even comes with a garage featuring an electrohydraulic lift, accommodating everything from a Ferrari to a Mercedes.
If you're yearning for an adventure on the open road without leaving behind the comforts of your penthouse and beloved Lambo, the Performance S might be the perfect vessel for you.
Also, it comes with a price tag of around 2 million dollars, so having the necessary funds is essential.
A Detailed Explanation of Performance S Interior Design?
The interior of the Performance S resembles that of a luxury hotel, complete with opulent furnishings and high-end amenities.
From the moment you step inside, you'll be enveloped in an aura of elegance and sophistication. The designers spared no expense in crafting an interior that exudes comfort and style. Making every journey a first-class experience.
1. A Luxurious Bedroom Retreat
At the heart of the Performance S lies a lavish double bed where you can rest and rejuvenate after a day of exploration.
The plush bedding and carefully curated decor ensure that your slumber is as blissful as it would be in a top-tier hotel.
The bedroom is a sanctuary of relaxation and serenity. The soft, inviting mattress embraces you, and the carefully selected linens caress your skin.
With the Performance S gently swaying as you drive, falling asleep has never been more comfortable.
2. A Gourmet Kitchen on the Go
The Performance S boasts a fully equipped kitchen, allowing you to indulge your culinary desires wherever you go. You can prepare delicious meals with high-end appliances, making every dining experience a delight.
The gourmet kitchen is a chef's dream come true. It features top-of-the-line equipment, including a state-of-the-art stove, oven, and refrigerator.
Whether you're a seasoned cook or a culinary enthusiast, you'll find everything you need to create culinary masterpieces on the road.
3. Spacious Lounge Area
Relaxation takes center stage in the Performance S, with a generous lounge area that invites you to unwind and enjoy the company of loved ones.
The comfortable seating and elegant interior create the perfect ambiance for memorable moments. The lounge area is a social haven, where friends and family come together to share laughter, stories, and unforgettable experiences.
You can sink into the plush seats, sip on your favorite beverage, and revel in the joy of companionship as you journey to new destinations.
4. The Lavish Heated Bathroom
Even in the coldest climates, the Performance S offers the luxury of a heated bathroom. Revel in the warmth as you freshen up, adding another touch of opulence to your journey.
The bathroom is a tranquil retreat furnished with priceless fittings and opulent extras. It has a large shower that allows you to feel the warm water flow over you while washing away the day's fatigue.
The Performance S ensures that every aspect of your journey, even your daily routine, is infused with comfort and elegance.
The Extraordinary Garage that Can Contain a Moderate Sedan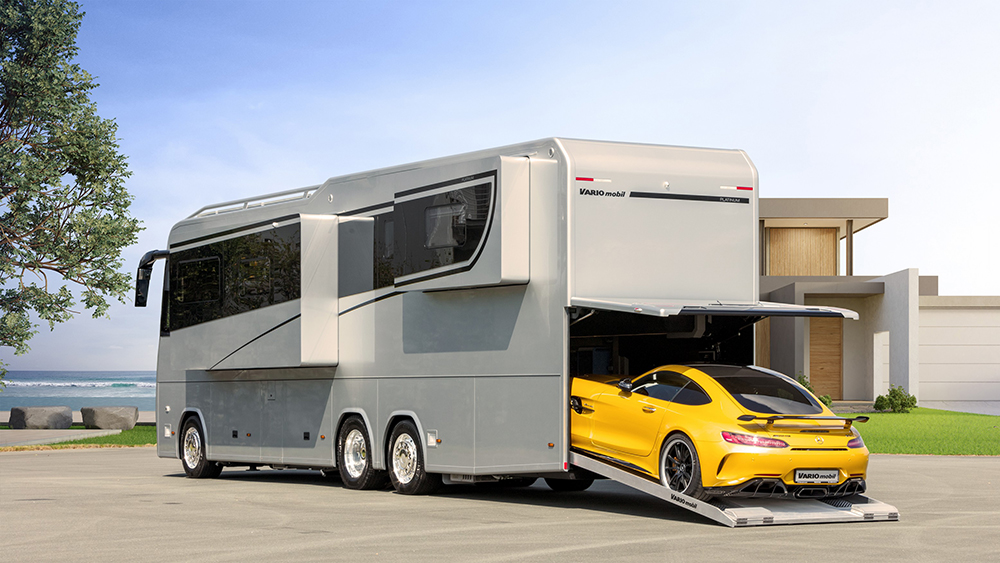 This is one of the amazing features of this motor home. The Performance S comes with an ingenious feature: a garage with an electrohydraulic lift.
This means you can bring your prized possession, whether it's a sleek Ferrari or a sophisticated Mercedes, along for the adventure. The garage is a testament to the Performance S's versatility and innovation. With the push of a button, the lift smoothly lowers your treasured vehicle into its dedicated space, ensuring it travels securely and safely. No longer do you have to choose between luxury travel and taking your beloved car along; the Performance S offers the best of both worlds.
What is so Special About Performance S?
1. Freedom and Flexibility: Traveling in Style
One of the biggest advantages of the Performance S is the freedom it provides. You can traverse breathtaking landscapes, explore hidden gems, and park your motorhome wherever you desire, all while living in the lap of luxury.
The Performance S liberates you from the constraints of traditional travel. There are no reservations to make or schedules to follow.
You have the freedom to set your own course and make spontaneous stops along the way. Traveling becomes an adventure of boundless possibilities, and Performance S is your gateway to explore the world on your terms.
2. Irresistible Appeal
What sets the Performance S apart is its ability to cater to those who seek both thrill and comfort. It allows adventurers to explore remote locations without compromising on lavish living.
Performance S appeals to the wanderlust in all of us. It beckons to those who yearn for discovery and crave the joy of travel.
Also, it is a manifestation of freedom, offering a sense of escape from the mundane, and an invitation to create unforgettable memories on the open road.
3. Ultimate Adventure
Whether it's a cross-country road trip or an international escapade, the Performance S opens up a world of possibilities.
From lush forests to stunning coastlines, every destination becomes an enchanting part of your journey. The Performance S becomes your trusty steed, carrying you to new horizons and extraordinary experiences.
As you drive along scenic routes and winding roads, every mile brings you closer to your next adventure. The journey itself becomes a story to tell, and Performance S is the captivating protagonist in your tales of exploration.
Additionally, the Performance S is ideal for couples or individuals seeking luxury travel. It can also accommodate a small family, depending on their specific needs and preferences.
With its comfortable amenities and spacious interiors, the motorhome provides a delightful travel experience for a family on the road.
How to Acquire the Volkner Mobil Performance S
Now the question that makes your dream a reality. To embark on your own luxurious adventure, you can inquire about the Performance S through Volkner Mobil's official channels.
However, be prepared to invest around $1.7 million in this exceptional motorhome. Acquiring Performance S is a decision that aligns with a desire for unparalleled luxury and travel experiences.
Moreso, the Volkner Mobil team is dedicated to assisting you throughout the process, ensuring that every detail meets your expectations.
The Volkner Mobil Performance S has redefined the concept of motorhomes, elevating them to unprecedented heights of luxury and sophistication.
With its impeccable design, top-notch amenities, and the freedom to explore, this $1.7 million motorhome truly offers an unparalleled travel experience.
Every aspect of the Performance S, from its opulent interiors to its innovative garage, is a testament to the pursuit of an adventure in style.
It is an invitation to embrace wanderlust, indulge in life's pleasures, and create unforgettable memories along the way.
Frequently Asked Questions
1. What sets the $1.7 million motorhome apart from conventional RVs?
Unlike conventional RVs, the Performance S offers a 5-star hotel experience on wheels, complete with a garage to store your luxury car or prized possession.
2. Is the Volkner Mobil Performance S customizable?
Yes, the Performance S offers customization options to suit individual preferences and needs. From interior design elements to specific features, they can tailor the motorhome to reflect your unique style and taste.
3. Is the Performance S suitable for long journeys?
Absolutely! The Performance S is designed for long-distance travel, offering all the comforts of a luxurious home on the go. Whether it's a cross-country road trip or an international adventure, this motorhome is equipped to provide a first-class experience throughout your journey.
4. What makes the Performance S a favorite among luxury travelers?
The Performance S has captured the hearts of luxury travelers due to its perfect blend of adventure and sophistication. It allows travelers to explore remote locations without compromising on luxurious living, making it an aspirational symbol for those seeking unparalleled travel experiences.
5. Does the Performance S offer ample storage space for belongings during travels?
Yes, the Performance S is designed with ample storage options to ensure it can comfortably accommodate all your belongings. From clothes and personal items to travel essentials, the motorhome offers practical storage solutions to keep everything organized.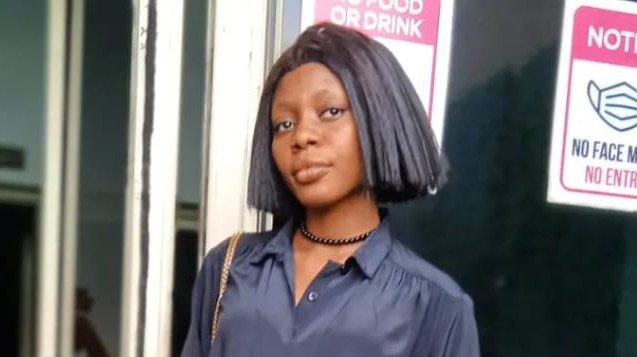 Belema Queen is a psychology and education graduate with a passion for writing SEO-driven content.
With expertise in keyword research, search engine optimization, and data analysis, she delivers high-quality, polished content across various industries.
Her background in psychology brings a unique perspective to her writing, resonating with readers effectively.