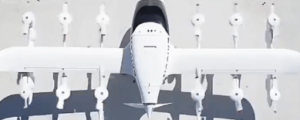 Kitty Hawk has developed a new air taxi drone known as Cora. The electric aircraft uses 12 lift fans for vertical take-off and landing like a helicopter. The drone does not make use of the runway even though it has a fully built conventional aircraft design.
According to mColby, Cora's design is quite different from most existing drones including Ehang 184 electric drone.
Cora drone is a combination of helicopter features an airplane features in terms of design. The drone has a total of 12 lifting rotors anchored at uniformly spaced positions at the side wings of the drone.
The side wing for the left has six rotors anchored on it and the side wing for the right has six rotors anchored on it. Both wings run parallel to each other horizontally, while having a uniform transverse alignment for the right and left wings.
Based on its unique design, Cora has a back-centered propelling rotor which appears to be larger than the 12 lifting rotors anchored at the wings when compared to one rotor.
While the entire 12 lifting rotors are uniform in size and shape, the back-centered rotor is one and is larger in size and shape. The function of the rotors anchored at the wings is for vertical lifting of the drone from the ground while the large back-centered rotor propels the drone forward for speed and stability.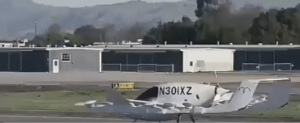 Besides the above features, Cora has an inbuilt back-support wing designed in such a manner that it forms a vertical height above the side wings. The presumed belief for the back wing is to help maintain stability during its flight.
Unlike other simple passenger drones that appear simple with few working parts, Cora seems to have lots of wings support and may need larger space for landing when compared to Ehang 184 passenger drone and few others.
However, a critical look into the Cora design can reveal that the engineers are putting power consumption and weight carrying capacity into consideration. With the help of the support wings.
While on air, Copra can fly the air with only its back-centered rotor while the lifting rotors are stopped after its lifting operation.
The wings help the drone to maintain its flight by not coming down towards the ground once its lifting rotors have been put off. So the whole forward movement while on air is made possible by the single rotor position at the back.
In terms of comparison, Cora may have higher load carrying capacity with less power consumption though with the disadvantage of larger space for landing.
The taxi drone service can possibly be extended to courier services and special mission drones including military applications.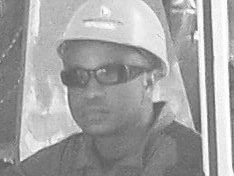 Philip is a graduate of Mechanical engineering and an NDT inspector with vast practical knowledge in other engineering fields, and software.
He loves to write and share information relating to engineering and technology fields, science and environmental issues, and Technical posts. His posts are based on personal ideas, researched knowledge, and discovery, from engineering, science & investment fields, etc.
Please, subscribe to our email list and follow our social media pages for regular and timely updates.
You can follow EngineeringAll social media pages by typing "@ EngineeringAlls" in any social media search form (Facebook, Twitter, Linkedin, Pinterest, Tumblr, etc).
You can submit your article for free review and publication by using the "PUBLISH YOUR ARTICLE" page at the MENU Buttons.
If you love this post please share it with your friends using the social media buttons provided.