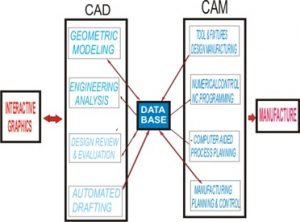 CAD/CAM as an interactive computer graphics tool enhances the design and manufacturing operations making it possible to produce highly profitable and quality products. Functions such as design, manufacturing, and management are integrated into a single linked system with different users in the company assessing either common data relating to their own specific function in order to realize a fully computer assisted manufacturing system.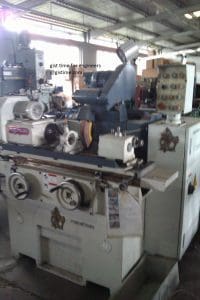 CAD/CAM system may consist of a dedicated computer connected to a number of workstations. With such tool, generation of parts can be done directly by a parametric processor either scaling or using a catalog of sub-programs. In addition,. Complete details of design can be stored on numerical control tapes for sequent use on request.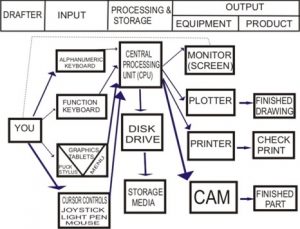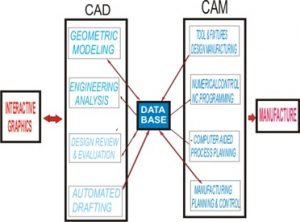 Using CAM/CAD system can offer lots of benefits to modern manufacturing and some of those benefits includes:
Superior products created with improved quality at reduced costs.
Easy creation of assemblies and parts in a computer, with their analysis, optimization, simulating functionality, and aesthetic requirement.
Reduced lead time in a design office.
Quick and easy referencing of a material of earlier designs

, data, and information.
Considerable reduction in time for changing designs and updating a document.
Relief designers of routine work

, thus giving more time for creative tasks.
Reduction in dependence on design sub-contractors.
Effective utilization of design personal for long-term tasks such as creating a standard database and preparing parametric designs

.
Data created at the design stage can be used in a manufacturing database and other planning and machine

control functions.
It also offers an opportunity for a database to be developed.
It reduces NC programming

time.
It is a precise and convenient development of NC programs due to the onscreen simulation of tool paths.
CAD

provides the designer with a new powerful tool that depends on the degree of integration with other activities like design verification, finite element analysis, machines

, mold flow analysis, solid and surface modelers, documentation, process planning, shop floor

data collection, and production control.
The use of CAD

/CAM has resulted in improved productivity in design engineering

and manufacturing giving rise to productivity gain.
Qualitative analysis of the product is achieved by computer-aided inspection which utilizes the design database.
CAD

/CAM offers great cost and quality benefits for the requirements of batch production.
The use of conventional machine tools

for batch production calls for a minimum number of similar components to be produced so as to distribute the cost of setting up machines

and tools. However, in a flexible manufacturing system (FMS), a minimum batch of a given type of component can even be one. Thus preventing the need of locking up the capital in extensive stocks of finished parts due to a production of a minimum batch of components in order to be economical.
All the variant and series of products planned to be manufactured by a firm can be produced randomly.
CAD

/CAM is capable of responding quickly to any design changes in the product.
CAD

/CAM can make use of several machining centers that is arranged one after the other with robots

and proper automatic

material handling equipment. Developed machining centers equipped with several tool magazines that contains all the tools required to complete each operation on each model of the product.
It is possible to have totally random mixes of models of a product proceeding down the line at any one time since the system has to identify only the model of the product presented to a machine

in order to complete the machining operations.
For certain operations that take longer time, multiple of similar machines can be installed in the line so that production can continue even if one machine goes down.
The system uses probes to identify the exact model of a component and signals from the probes activates master calling program which selects the appropriate part program and sub-routines from the control memory.
The system contains touch trigger probes that minimize operator's intervention industrial robots are used in flexible manufacturing systems for material handlings such as loading/unloading, inspection activities, and assembly operations.
Originally posted 2018-10-01 11:34:50.