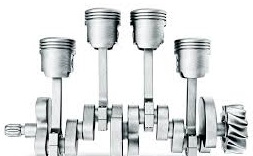 High-starting in an engine can be referred to as; when the engine is unable to start easily as a sound engine would do. Engines do encounter high-starting from one time to another and the causes of such fault do vary from one engine model to another as well, but basically, there are root factors that usually contribute to the fault or rather are the main areas of focus when such fault develops.
Diesel engines are not exempted in terms of high-starting. They are one of the heavy-duty engines available in the market today and uses the same procedure of ignition like the petrol engines. The high-starting coming from diesel engines is usually frustrating because a lot of energy is usually employed in turning the crankshaft to cause the engine to start, but when the expectation was not met; it can make the operator become tired and frustrated.
There are many factors that can cause such fault in diesel engines and they include:
These factors are the major areas of focus to the problems of diesel engines high-starting, however; their effect does not mean the damage or fault of all of them rather any faulty part of the engine mentioned above can lead to high-starting without a combination of another factor.
Despite the five-listed factors, there are other minor factors that could contribute to engine high-starting and such includes:
These minor factors are negligible and rarely surface except when the user is careless in the engine handlings.
Originally posted 2018-05-19 05:27:40.