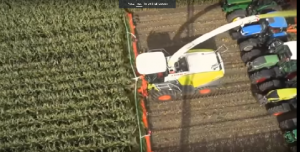 The Agricultural sectors now have hope for better future as the trends of modern and future technology has put farming and food security into their agenda. The recent report reaching "gist time for engineers and technicians" has it that more than hundred heavy-duty vehicles have been made to assist farmers in the massive production of foods. These vehicles come in different sizes and functions including robotic and automatic system vehicles. Their functions vary according to their designs and purpose but we shall be discussing one of the most "mind-blowing" vehicles which we just received with its incredible features. This vehicle is not bigger than others, or greater in function than others but it simply surprises us how it carries out its function with so much accuracy without waste of any agricultural products.
The multipurpose "CROPS HARVESTING AND TRANSFERRING MACHINE" this machine comes with a look similar to tractors but has a huge difference in terms of designs and function. The harvesting vehicle machine has the harvester shovel fixed at the front, the shovel may be up to 16 feet in width and 3 feet in height.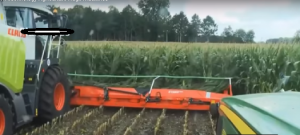 The most interesting thing about the machine is the design, though looking like a tractor but completely different from it. It has four wheels bearing heavy-duty tires, the tires enable it to have great stability while carrying out its functions. The operator's seating location was safely guided and secured with plastic transparent glass for clear vision and protection of the operator. At the back of the operator's seating location is a huge pipe of about 50cm in diameter raised above the height of the vehicle and bent towards the back in a horizontal position, the function of the pipe is to transfer crops harvested into the trucks assembled at its back. Though not as large as most agricultural machines but its size surpasses that of some tractors.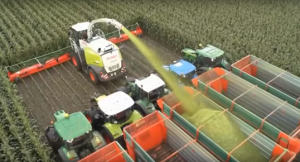 The harvester was assisted with small tires at the edges of each side, these tires ensure that the harvester remains in stable position to make cuttings on the crops. Besides the tires, it has in-built sharp edge cutters, which seem like scissors having the ability to cut crops with high accuracy.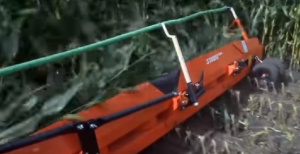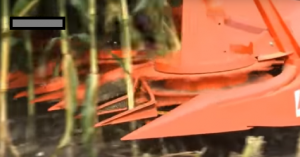 The transferring pipe at the back has a fascinating feature which makes it possible to be raised or lowered, moved front or backward, etc. to ensure no waste of crops during the transfer. And these controls can be made from the operator's location.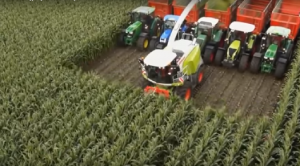 When the vehicle does its work, it makes the surrounding look neat and tidy because it does not litter the harvested crops around but directly transfer them into the trucks arranged at the back.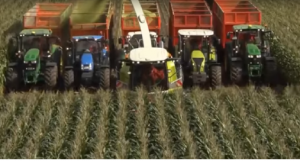 Originally posted 2018-05-15 17:28:25.