HOW TO START A BLOCK MOLDING INDUSTRY IN NIGERIA, WITH A LOCALLY MADE BLOCK MOLDING MACHINE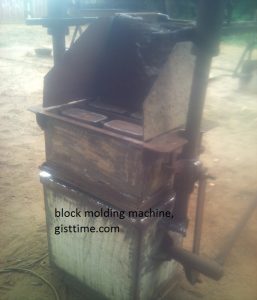 The block industry is one of the lucrative business today in Nigeria due to the inflations in the cost of cements most builders now prefers buying the blocks which has very little increase in price as compared to the increase in cement price, hence buying will cut off all the stress involved in hiring laborers to mold blocks, beside in many cities there is no availability for sands fields so the cost buying sand coupled with the high cost of cement would discourage any individual who wish to mold blocks in such place.
Starting such business has to do with the following;
ESTABLISHING CONTACTS
Just as with every business you need the contacts of builders, cement dealers, sand suppliers, molding block machine makers, technicians and mechanics, etc. these are the contact that supposed to be with you, since the business cannot be operated without those people.
The builders means those that undertake contracts for the building of houses, and social amenities that has to do with civil works, the contact of this categories of people will enable you market your blocks easily since they are the major clients required in the business.
GOOD LOCATION
Choose a good location for your block industry, note that it is not every business that requires public places like express roads, and busy areas, block industry is one of such business. All that it requires is a developing areas where building and construction activities are taking place so that it can be easy to convey the blocks to the site also easier to ensure you are the only supplier to the builders in that area.
A good location is where it is easier for builders to access you, a developing area where new building activities are carried out. Some people started block industries in an abandoned empty lands located at areas specified above without paying any fee to anyone except the permission from the landlord, if for economic reasons you see such location then it is a good stage to start with.
SOURCE OF WATER SUPPLY
A major issue that cannot be ignored is the water supply, for you to operate a very good block industry there must be a borehole or well of water such that one can easily access water both for mixing of the sand and cement and for the watering of the molded blocks every morning as well.
You will also need water for other important purposes like washing of the molders and the machine after each day of molding of the blocks. But in a case where the digging of borehole or well would be costly, you can buy a plastic water tank with about 3000litres capacity and mount it on the site and employ the services of water suppliers who would come at a scheduled moments to refill your tank with water. This practice is cheaper especially if the place you are to use will be on lease and the cost of such tank currently should be about N45, 000
MOLDING MACHINE AND MOLDERS
There are different sizes of block molding pan ranging from 5inch to 9 inch with of the pans while the length of all of them are the same. But these molding pans can be operated with the block molding machine such that one particular molding machine can be used to produce different ranges of block widths all you need to do is just to change the pan for any given size.
The machine with its different ranges of molding pans cost about N450, 000 in Nigeria currently according to direct information from the manufacturer whom I still have his contact, such machine help the molding of block to be faster and easy to meet target when the demand is high, as well as reducing the number of labor force needed in the industry.
SUPPORT BOARDS
If you are to use the molding machine then there is need to buy or construct sets of wood boards that would be used in laying the blocks removed from the molding machine, the number of this board can be up to 500 pieces for large capacity block industry with huge demand or can be as small as 100 pieces if the capacity is low and demand is not huge.
TRUCK
There will be services of a vehicle such as truck most times, especially during the delivering of the blocks to your clients, buying and carrying of cements from its dealers, the conveying of the molding machine for maintenance in the event of any malfunctioning, etc. these needs make the use of trucks in that business inevitable.
As a starter you can decide to buy a very small pick-up that carry about 50 blocks at a trip which may not cost more than N500, 000 to purchase from the fairly used cars dealers in the market.
CEMENT STORING FACILITY
Following the continuous rise in the prices of cements as a result of its frequent scarcity, there is need to have a backup especially when the business has started booming. One of the ways to do this is by purchasing a container used in the importation of foreign goods from the dealers mainly those working with the custom officers. The cost of a small container of about 30 feet square should be within N100, 000 which is enough to serve as the storage vessel for cements due to its record of helping imported goods to be under stable temperature. Hence, the cements have lower tendency of caking or solidifying when compared to keeping it in open space.
SAFETY ACCESSORIES
Another minor things you need to consider is the safety aspect of the laborers therefore, there is need to make provision for some safety apparatus such hand groves, safety goggles, and safety shoes, etc.
GOOD SPACE
Another thing to consider is the space available for the displaying of the blocks for the heat of sun to quickly dry them up. A good space is a major factor since the blocks have to be placed on the ground one after the other in a uniform manner for easy counting and arranging after the drying process had been completed. Any land measuring about 50 feet by 100 feet and above is a good space for a start.
Originally posted 2017-08-24 14:19:58.