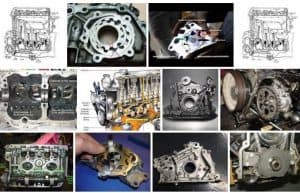 Oil filter is a major component in the lubrication system that helps to keep the oil clean as it circulates around the engine when the engine is running. Meanwhile, as the time progresses, the filter oil passage do block. The reason for the blockage is as a result of the accumulated dirt from the oil. In such a situation, the oil will be forced to bypass the filter through the pressure relief valve.
In the case that the filter becomes blocked, there are ways you can clean it up and replace it back without the need for a new filter. In that case, here are the few steps you should take;
HOW TO CLEAN BOWL TYPE FILTER
Place a drip tray under the filter and undo the securing bolts. This will be at the base of the bowl, or on top of the filter housing.
Remove

the bowl and tip the contents into a suitable container. Note the arrangement of any springs and washers around the center bolt.
There will be a sealing ring in a groove in the filter housing. Use a skewer or some other pointed instrument to spear it and ease it out.
Clean dirt from the grove with a corner of the cloth and insert the new rubber ring supplied with the filter element. Take care not to twist the ring by using a mirror to check

it.
After washing the filter bowl in a paraffin to remove

any sludge, insert the new element.
Position the bowl against the sealing ring and hold it firmly in place while the fixing bolt is hand-tightened. Finally, tighten the bolt with a spanner.
HOW TO CLEAN CENTRIFUGAL TYPE FILTER
The centrifugal filter operates by throwing any deposit in the oil to the outside as it rotates. To clean it, it will be separated and the deposit will be scraped out. The scraped content will be washed in paraffin and afterward, the two halves will be reassembled back.
Some centrifugal filters carry ignition timing marks; these should be marked with a dab of paint so that they can be refitted in exactly the same position in relation to the engine-driven half, otherwise, the ignition timing settings will be lost. Here are a few steps on how to do that:
Place a drip tray under the filter unit.
Mark the cover for reassembly in the same position and loosen the bolts.
Remove

the bolts and cover. Clean the interior with a brush and paraffin. And reassemble it.
Though many mechanics may have special way or approach in the handling of filter problems especially the blockage issue. These steps mentioned above are the basis for every newbie in the system.
Meanwhile, with the above steps, you have successfully cleaned the filter. In the case of any technical problem do not hesitate to drop your question here.
Originally posted 2018-08-27 15:22:16.