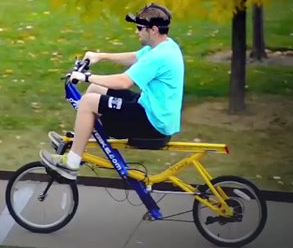 Have you ever considered a bicycle without pedals? A bicycle that will not require any action from the legs? Perhaps a bike suitable for those having problems of moving their legs properly or those who desire not to stress their legs? Then I guess this bike is the answer.
The Rowing machine bike may be replacing the popular bicycle in the future or may become a good alternative to bicycles in the markets very soon. Considering its unique features and the perfect way it was made which makes it function very well without any known mechanical defects.
The machine has similar size and appearance to that of the popular sports bicycles in a way that it can be mistaken for it except one look closely.
The features of the Rowing machine bike are:
It has a riding handle like that of a bicycle, but the handle is not stationary like that of the bicycle, rather it has a direct lever connection that links it to the chains connected at the sprocket in the back wheel bearing the tire. Whenever the handle is being moved to- and -fro by the rider, it will create a reciprocating motion on the fixed arms located below the rider's seat making it possible to drag the connecting chain forward and backward, hence the motion is being converted to rotational motion through the proper arrangement that exists between the back tire sprocket linked with the chain to the reciprocating arm that helps in turning the chains and sprocket.
The seater has similar look to that of the popular sports bicycle also except that it was mounted on a long cross-sectional beam which made a link between the front tire's support beam and the back tire's support beams.
The place meant for the legs to rest is located at the front tire position, it is fixed just above the front tire, at the end of the front larger beam where the reciprocating handle lever has its flexible joint.
Besides the above features, every other appearance and design seems to be like that of the sports bicycles.
It is a new technology released by the Mashable, below this post is the accompanying video that reveals its functionalities.
This bike is like a rowing machine on wheels pic.twitter.com/xNeSG5BIHe

— Mashable (@mashable) March 17, 2018
Originally posted 2018-05-01 05:27:39.