BEWARE OF THIS EMAIL TO AVOID IDENTITY HACK
Most of the online fraudsters are now devising new technics to hack people's identity, the former technic of emailing people about a debit in their bank account for a particular magazine subscription and prompting them to click a particular link for the de-activation of the subscription, has gathered much popularity such that people now are aware of the fraudulent email and quickly move the mail to their trash folder each time it appears in their email inbox or spam folder.
A few days ago, I received this email from an online hacker which I want to share with gist timers.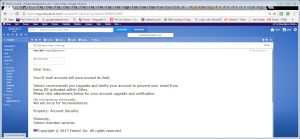 It is an email from an online hacker pretending to come from yahoo.com, it says;
"Subject:   DE-Activation Alert *Warning*
Sender:     Yahoo! Mail <shingyik28@yahoo.com>
 Apr 6 at 10:42 AM
YAHOO MAIL
Dear User,
Your E-mail account will soon exceed its limit.
Yahoo! recommends you Upgrade and Verify your account to prevent your email from being DE-activated within 24hrs.
Please click the attachment below for your account upgrade and verification.
This is to improve our service quality.
We are sorry for inconveniences
Property: Account Security
Sincerely,
Yahoo! member services
Yahoo!Copyright © 2017 Yahoo! Inc. All rights reserved."
This a typical email currently used by hackers, the attached file is a downloadable file, the moment you click on it, it will start an automatic download into your computer or phone, when the download is completed the next is that it becomes hidden in the device and it will start serving as a spy software to the sender, by revealing your login username and password in any website you open with the device, the worst of it is those that operate online banking and mobile banking.
Please be aware of this new technic and quickly move the email to your trash folder each time they appear in your inbox or spam folder, and do not make the mistake of trying to see the attached file, because the download is irreversible once it had been done except you have to format your device to be able to remove the spying software after the software had gained entrance into your system.
I have just discovered this, and I don't want any of my reader to fall into the trap.
Originally posted 2017-08-30 02:20:08.