An automatic control of machine tools employs the use of automatic machines in which both the workpiece handling and the metal cutting operation are performed automatically. The principle of automatic control tools can be described as if the tool or movable member is transversely movable toward and away from a stationary member, which might be a workpiece or tool holder.
The movable member is driven by a stepping motor for powering same. A pulse counter is provided so that the amount of movement of the motor is controlled by the counter. The counter can be set to zero for any position of the movable member so tat all displacements of the movable member are measured by the counter beginning at the latter position where the counter was set to zero.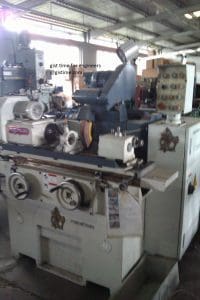 DIFFERENCES IN VARIOUS DEGREES OF CONTROL
1. MANUAL CONTROL: this is an operation carried with dexterity, sense organs and intelligence by employing hand tool, set up tools and inspection, etc. in this type of control, work points are designed to satisfy ergonomics/the adaptation of human dimensions.
2. SEMI-AUTOMATIC CONTROL: semi-automatic control is partly automatic and partly manual. The movement of the workpieces is controlled automatically while the loading into / removal of a workpiece from the machine is done manually.
3. AUTOMATIC CONTROL: in this type, every operation is automatic. It is a full automation system known as the industrial robotic production system. It is a kind of machine control running with programmed codes to exhibit all the required actions by the machine.
WHEN CONTROL SYSTEM WILL REQUIRE AUTOMATION
The factors to consider in other to justify the use of automatic control are:
• Increase in productivity
• When there is the need for few operators
• Complexity/nature of the job
• When there is the need for high production rate
• The need for mass production
THE PRINCIPLE FOR THE VARIOUS CONTROL SYSTEM
• The control of the complete automated flow live to coordinate the sequence of actions of the transfer system and its work station is achieved by a programmable logic controller in which the sequence is made to be easily configured and made in the line.
• Diagnostic features are added to aid in identifying the location and causes of the trouble to the operators.
• Controls ensure that the system does not operate in an unsafe or hazardous condition. Various sensors and limited switches may be installed for this purpose.
• If the same defect is produced every time at one station, then a complete line has to be stopped and corrective action is taken.
• It decides whether there is a need to stop complete line or one faulty part produced at any work.
• The control system monitors the quality and rejects the intolerable parts.
Originally posted 2018-10-06 08:46:42.