The automatic loader is another vehicle newly made for farmers with the intention of increasing food production and reducing stress in farming operations. The vehicle is not only useful to farmers but also to those buying agricultural products from farmers. Automatic loader drives its name from the function it performs. The vehicle has the ability of loading tons of harvested products in the farm without any human support.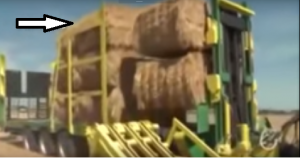 The loading section of the vehicle bears the machine which contains the automatic loading system. And the section is attached to the truck which serves as its carrier, therefore; the loads arranged by the machine are carried by truck to the required destination.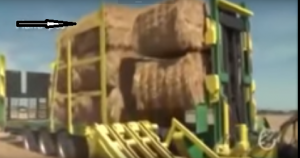 The machine which is fixed with the truck has highly mechanized system which enables it to pick up a load from the ground, position it in an upright direction, and then gradually roll it into a particular column in the truck. the column itself is also automated such that, there is always available space for new loads to go in, the previous load dropped on the space usually got transferred to upper or lower section of the truck depending on where space is found, the columns system is a completely automatic operations with sensors inbuilt to detect space, and the process is continued until the entire space in the truck is filled up.
Advertisement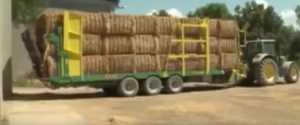 The picture above illustrates how the machine loading system automatically arranges all the loads transferred to the truck without any mistake. The operation is neat and sequential which makes it highly difficult for any of the bundled load to fall-off while the vehicle is moving.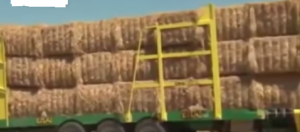 The machine has the loading beams acting as compacting force for the loads helping the loads to stay together while the vehicle is moving.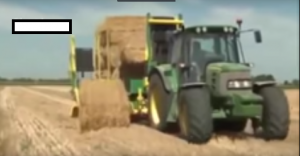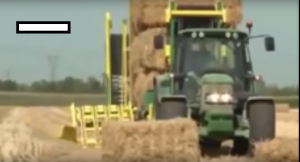 The two pictures above illustrate how the machine automatically lifts the bundled farming products such as rice, hay, or wheat, etc. into the loader. The loader has beams and conveying belts in it which enables it to drag the load on the ground into its center and position it in the direction needed before sending it into the available space in the truck column.  
Advertisement
This vehicle will not only help farming stress to be reduced but would go further in ensuring that harvested crops are effectively transferred into the storage houses or market with minimum wastage.
[amazon_link asins='B073LJR33D,B06W2K2CXQ' template='ProductCarousel' store='NGR-1' marketplace='US' link_id='1c456102-f4eb-11e7-b0ef-1bd6b8101120']
Originally posted 2018-01-10 08:38:25.