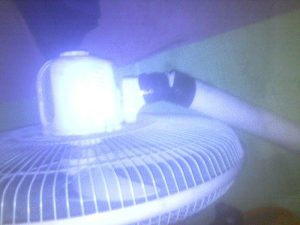 Just few weeks after the discoveries about the notable faults in rechargeable fan, another discovery had just emerged concerning the rechargeable fan. This time, it has to do with the breaking at its column near the swinging part of the fan engine.
According to the report, the rechargeable fan had been found on the floor with its head and column appearing in the form seen in the picture above.  The discovery made a suggestion of possible collapse of the fan as a result of action arising from pushing of the fan either by children or another falling object, which resulted to the standing rechargeable fan falling in a backward direction, with the engine first hitting the floor, the column received the highest shock since it has no direct contact with the floor, thereby leading to its breaking at the location very close to the engine part.
Though, some efforts were made to restore the fan to useful position through the application of adhesives and black tapes but the weight of the engine has made it impossible because of the large force it exerts at the broken part during the turning action.
According to the report, it is believed that major ways to secure the rechargeable fan from this type of problem are:
Standing it in free and safe locations
Securing it from the reach of children