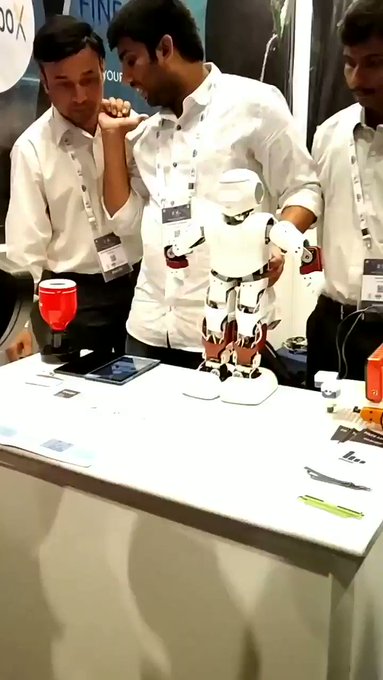 The information dropped by the New India Xpress media publication revealed the newly made humanoid made by Indians. The robot named MINU was shown dancing in the public as the music is being played from a mobile phone.
One of the reporters working for the news publication firm MRS Srilakshmi Muttevi went further to share the video of the robot to her twitter page. It happens to be one of the outstanding robots displayed during the Vizag Fintech Festival held recently.
In the report made about 2 hours ago, Muttevi, quoted on her tweet "Robot MINU dancing to a song at the exhibition of Vizag Fintech Festival". The video was able to show a full evidence of her claim as MINU can be seen directly on the video dancing to the gentle tone music being played by its developers.
There is a clear evidence of artificial intelligence in MINU's performance based on its ability to make new dancing steps as the tone of the music changes. Another clear evidence is the absence of remote control from the video. The video showed that no one is operating MINU while the dancing action is taking place. In other words, the AI robots are taking the dancing action independently without any human control.
How the programming of such robot was carried and how it is able to have such independent feature is purely based on the developers and its programmers. The robot could be an ideal prototype for the making of more useful artificial intelligence robots.
When it comes to size, the humanoid could be termed as a very small robot in the size of a toy having about 3 feet in height, and overall width of 2 feet. The foot which forms its base is equipped with heavier and flat surface material to maintain its rigidity with the ground.
Robot MINU dancing to a song at the exhibition of Vizag Fintech Festival #fintechfestival #Vizag@NewIndianXpress pic.twitter.com/xp3isGqOYu

— Srilakshmi Muttevi (@Sri_TNIE) October 23, 2018
Originally posted 2018-10-23 10:07:21.