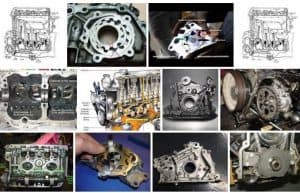 Gaskets are often used between metal surfaces to make an oil-tight joint. If the gasket is displaced or damaged, or the metal surfaces are distorted, oil will leak. The gaskets most likely to leak are those that are frequently disturbed, such as the one under the valve cover which has its oil-tight seal broken each time the valve settings are checked. Ideally, a new gasket should be fitted each time the cover is taken off.
The most complex gasket in the engine is between the cylinder head and block. The cylinder head gasket has the difficult job of sealing off combustion gases, water in the cooling system, and high-pressure lubricating oil. If it leaks, the cylinder head must come off, such as a complicated job that is best left to the experts.
Here are the nine steps you can use to renew the gasket:
Originally posted 2018-08-28 04:53:30.